An interview with Ignacio S. Galán
"Energy companies that pollute should pay more taxes than clean ones"
Looking ahead to our upcoming 2019 General Shareholders' Meeting on 29 March, the Vocento group — one of Spain's leading multimedia communication firms — interviewed the chairman of Iberdrola to discuss some major current issues for the company and for the energy sector overall.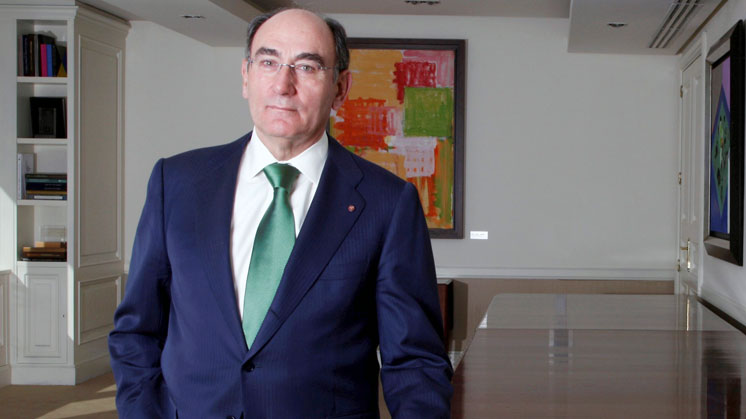 Ignacio S. Galán, chairman of Iberdrola.
In a context of substantial and significant changes in the sector, in an interview with José M. Camarero, Ignacio Galán said that he is facing his re-election "with ideas and energy" and with a strategic plan until 2022 that entails global investments worth €34 billion. This bold investment programme focuses mainly on the Networks (47%) and Renewables (39%) businesses and will drive growth in results to €3.9 billion in 2022, while making it possible to increase the dividend to €0.40 per share.
Among other newsworthy matters, the chairman talked about the impact of political changes in the countries where the Iberdrola group operates, and the Spanish government's Energy Transition Plan. According to Galán, the plan is a "clear road map for determining the energy required by the country for the coming decade and how it will be used". Iberdrola will invest €8 billion by 2022 to increase wind and solar generation capacity by 3,000 MW in Spain alone.
Do you feel supported by the main fund-shareholders?
My duty is to create sustainable value for all our shareholders, both the large funds and the 600,000 private individuals who have invested their savings in us. Earnings per share in 2018, which surpassed the IBEX by 25 points, and analysts' recommendations suggest that we are on the right track.
Will it be possible for the dividend to reach €0.40 per share by 2022?
Of course, it can be achieved, and even bettered. Because what was previously the maximum target for 2022, both in terms of results and dividends, has now become the minimum. If results continue to grow as expected, we can outperform these minimums.
The Meeting will vote on the appointment of Sara de la Rica to the Board. How important is equality to you?
It's great news that with the arrival of Sara de la Rica in a few days, ours will be the Board with the largest percentage of women in the IBEX 35, making up 50% of the external directors. Our commitment to equality is integral to us. It is fully present in our human resources policies. Although there is still a long way to go, the progress we are making in this field is grounds for satisfaction.

Iberdrola and SDG 5: Gender equality
Chairman's profile