CYCLE LANES OF THE FUTURE
Bike lanes for the cyclists of the future: high-tech and sustainable
On land, sea or air, the cycle lanes of the future will be safer for users, reducing pollution and preventing many of the accidents that happen every day. With a goal like this, originality abounds.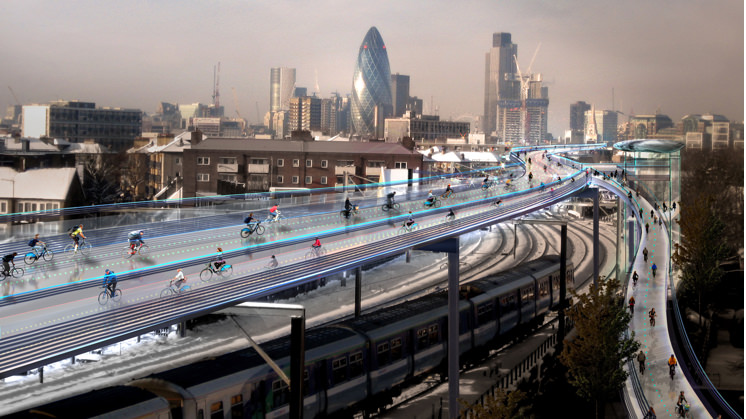 The new cycle lanes of the future are environmentally sustainable.
Researchers all over the planet are thinking up innovative cycle-lane designs for the bikes of the future, to allow cyclists, drivers and pedestrians to live together in harmony, improve our health and protect the planet. A study conducted by the Barcelona Global Health Institute says that having more cycle lanes would save up to 10,000 lives in Europe.
All around the world there are projects awaiting the go-ahead, while others are already part of the landscape.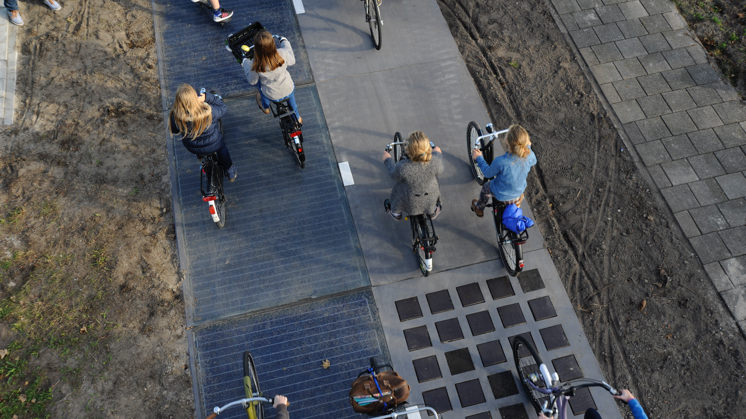 SolaRoad is the world's first cycle lane with solar panels. Source: SolaRoad.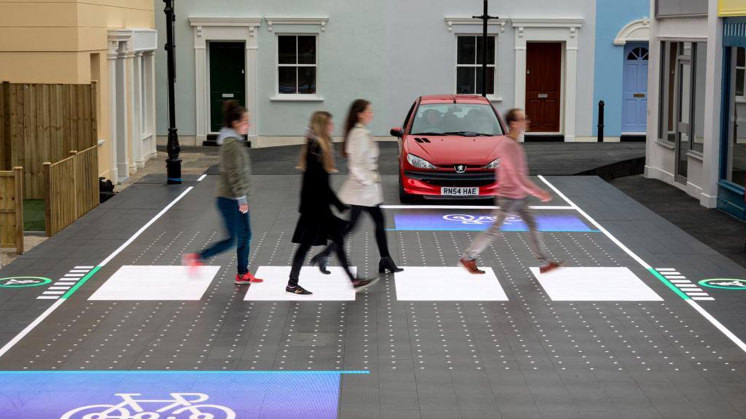 London has incorporated a prototype interactive crossing, named Starling Corssing. Source: Umbrellium.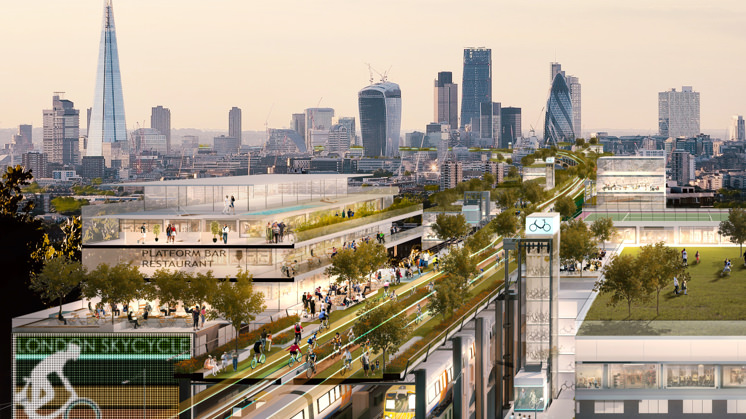 SkyCyle is the bet of the London city for airborne cycling lanes. Source: Foster + Partners/Exterior Architecture.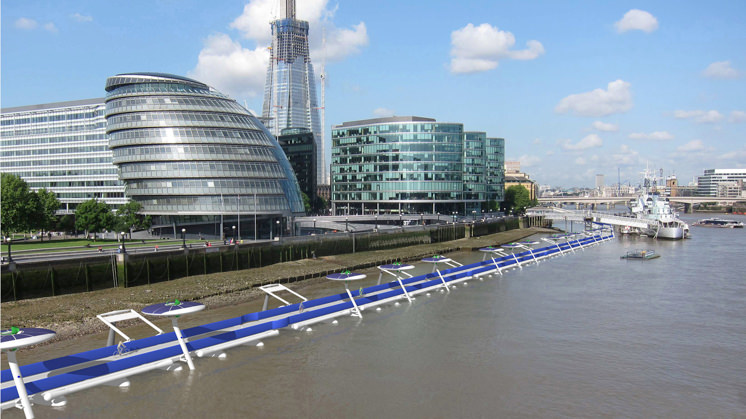 Thames Deckway proposes the creation of floating cycle paths that will span the Thames. Source: Copyright 2010 River Cycleway Consortium Ltd.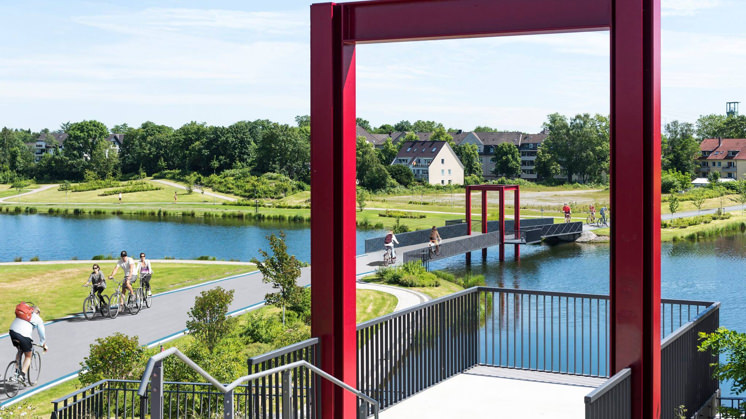 Germany already has it first bike autobahns, named Radschnellweg.
SOLAR CYCLING LANES: SOLAROAD
Located in the Netherlands, it is the world's first cycle lane equipped with solar panels and photovoltaic cells capable of generating renewable energy. But it's not the only one. In South Korea, between Sejong and Daejon, there's a 32-kilometre cycle lane with a solar roof that provides enough power for the entire route, while protecting cyclists from the sun and bad weather.
HIGH-TECH CYCLING LANES: STARLING CROSSING
Starling Crossing (STigmergic Adaptive Responsive LearnING Crossing) is a prototype interactive crossing being tested in South London, that adapts to real-time traffic conditions and determines who has right of way at any given time. Similarly, Copenhagen has installed a synchronised traffic light system that keeps the flow of cyclists on the move. Technology is available to pedestrians, cyclists and drivers, with adaptive pedestrian crossings and lanes for smart bikes.
AIRBORNE CYCLING LANES: SKYCYCLE, BICI-METRO, HOVENRING AND CYCLE SNAKE
Who says that bikes have to stay on the ground? That was probably what Norman Foster was thinking when he designed SkyCycle, a massive project that hopes to build a 220-kilometre cycling network that will criss-cross London, suspended above the railway lines.
Then there's Richard Moreta's excellent project. The Bici-Metro is an urban initiative that will protect cyclists from traffic accidents with elevated tubes. Back in the Netherlands, cyclists already have the Hovenring elevated bridge in Eindhoven and Copenhagen's iconic raised bike lane, the Cycle Snake.
CYCLING OVER THE RIVER: THAMES DECKWAY
The Thames Deckway is perhaps the most ambitious project of its kind and consists of a floating cycle path that will span the Thames, linking almost ten kilometres of the capital.
CYCLE LANES AND THE UNDERGROUND: LONDON UNDERLINE
Why not take advantage of existing infrastructures that have fallen into disuse? Back in London again, there's talk of building the London Underline, a network of pedestrian and cycling lands running through abandoned stretches of the London Underground.
CYCLE LANDS IN TUNNELS: PEACE BRIDGE
One example of this is in Calgary, Canada, where the Peace Bridge, a design by Spanish architect Santiago Calatrava, accommodates 126 metres of foot and bike lanes protected by a glass structure.
CYCLING HIGHWAYS: RADSCHNELLWEG
Germany has taken the challenge seriously, and is already building its first bike autobahns, paths exclusively for bikes with no traffic lights and no motorised vehicles. The first motorway for cyclists is the 101-kilometre Radschnellweg Ruhr RS1 in Germany.
WOODEN CYCLE LANES: ECODYNAMIC CYCLE LANE
Holland is putting its money on wooden cycle lanes and is already working on the first Ecodynamic Cycle Lane manufactured in bio-composite, a mixture of wood fibre left over from forestry activities (no trees are sacrificed) and organic resin.
DECONTAMINATING BIKE PATHS: ECOGRANIC
It won't pollute the atmosphere, and it will clean it too. That's the goal of Navarre-based company PVT, creator of Ecogranic, a type of paving that reduces the nitrogen oxide (NO) gases generated by motor vehicles. As an experiment, the company laid its product on a bike path in Pamplona (Spain), and reduced these gases by 50%.
ARTISTIC BIKE PATHS: CROIX-ROUSSE
There's a cycle lane in Brabante, Holland, that pays tribute to Van Gogh and his Starry Night with thousands of colourful shingles that light up in the dark. The Croix-Rousse tunnel in Lyon (France) also has images and videos projected on its wall, accompanied by a musical soundtrack.
Eco-friendly, sustainable, smart, overhead or underground, this is just a sample of the bike paths of the future. All you need to do is jump on your bike, head for one of these routes and use your imagination. With all these options, what will cycle paths that link our neighbourhoods, cities and perhaps countries look like in decades to come?
Do you wish to be part of the future of urban mobility?