Electric bikes
Would you like to be part of the future of urban mobility?
Affordable, sustainable and healthy. E-bike sales are booming worldwide and more than 700 major cities have electric bike-sharing systems. Find out why.
The world's best-selling electric vehicle: over 80 million units could be sold by 2025, according to the report of Electric Bikes Worldwide Reports. For example, only in Europe, sales have multiplied by 13 in the last nine years. These figures are proof of the two-wheel revolution, which has only started.
Electric bicycles are being improved as every day passes: lighter, longer-lasting batteries that allow bicycles to travel more miles are being developed thanks to the advances in technology. A fully charged battery can run between 30 and 100 kilometres, depending on the bicycle model, weight of the cyclist and general relief of the terrain. Likewise, digitisation, connectivity and big data will give this hundred-year-old invention a huge boost in upcoming years and all of the features of the bicycle will be easily controlled with a simple ECU.
The electric bicycle is already considered as the means of transport of the future due to the growing awareness on the importance of sustainable mobility and combating climate change. Discover all of its secrets!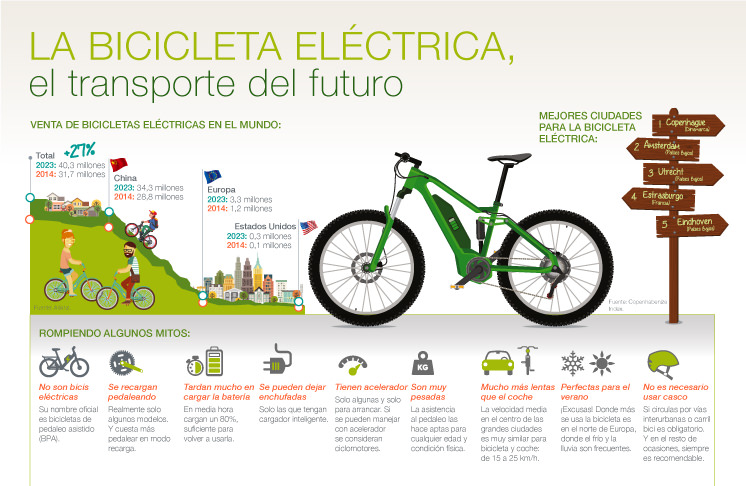 Electric bicycles, the means of transport of the future.