OTERO PHOTOVOLTAIC PLANT
Iberdrola develops Europe's second-largest photovoltaic plant
Iberdrola has begun proceedings to develop the Otero photovoltaic plant, which, with installed capacity of 505 MW, will be the largest in Castilla y León (Spain) and the second largest in Europe. The plant will be built in the municipalities of Marazuela, Marazoleja and Anaya, in the province of Segovia, and represents an investment of nearly €220 million.
Otero Photovoltaic Plant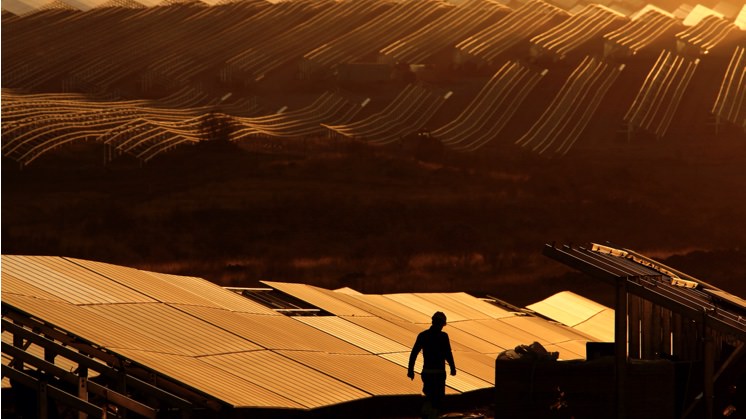 Location
Marazuela, Marazoleja and Anaya (Segovia)

Installed capacity
505 MW

Total investment
220 million euros

Local employment
1,100 workers
Iberdrola group continues to lead the promotion of high-capacity renewable projects. After the commissioning of Núñez de Balboa (500 MW), the largest photovoltaic plant currently operating in Europe, and the start of the implementation of the Francisco Pizarro project (590 MW), the company is now starting the procedures for developing the Otero plant, with 505 MW of power.
The project, which will involve an investment of almost 220 million euros, will have a significant local component, which will contribute to boosting the economy and employment in Castilla y León, particularly in the municipalities of Marazuela, Marazoleja and Anaya (Segovia), where the plant will be located. Industrial suppliers will be involved in its development and up to 1,100 people will work in peak periods. The company has also grouped land from 150 local owners, who will also benefit.
Once in operation, the Otero photovoltaic plant will generate enough clean energy to supply 290,000 homes and will prevent the emission of 182,000 tonnes of CO2 per year into the atmosphere.
RENEWABLE LEADER IN CASTILLA Y LEÓN
With this new project, Iberdrola is reinforcing its renewable leadership in Castilla y León, where it already manages more than 5,100 MW of hydro and wind, making it the region in which the company has installed the most green megawatts.
Iberdrola commissioned the Herrera wind farm (63 MW) which have the most powerful onshore wind turbines in Spain and is promoting the Buniel wind farm complex (114 MW) and Valdemoro park (164 MW), one of the largest in the country.
The company is also processing another 800 MW of photovoltaic power in the region, distributed in Salamanca and Palencia, including the plants in Ciudad Rodrigo (300 MW), Velilla (400 MW), Revilla Vallejera, Ballestas and Villarino.
The group will promote more than 2,400 MW in wind and photovoltaic projects in Castilla y León over the next few years, for which it will invest around 2 billion euros. This number of resources will galvanise the industrial sector and create 24,000 jobs, according to estimates by the National Integrated Energy and Climate Plan (PNIEC).