UTILITY OF THE FUTURE
Iberdrola, the utility of the future
Iberdrola group has made sweeping changes in the last 20 years, staying one step ahead of the energy transition to face the challenges of climate change and the need for a clean, reliable, smart business model. It is now the leader in renewables and smart networks, has a diverse portfolio of businesses and geographies, is present in highly rated countries and has demonstrated its financial fortitude and experience and its capacity for execution.
AN INTERNATIONAL ENERGY LEADER
SEE INFOGRAPHIC: Iberdrola, an international energy leader [PDF]
With a history of over 170 years, today Iberdrola is a global energy leader, the number-one producer of wind power and one of the world's biggest electricity utilities by market capitalisation. The group supplies energy to almost 100 million people in dozens of countries, has more than 600,000 shareholders, a workforce comprising more than 35,000 employees and assets worth more than €122 billion.
We are leading the transition towards a sustainable energy model through investments in renewable energy, smart grids, large-scale energy storage and digital transformation, offering the most advanced products and services to our customers.
Ignacio Galán, Iberdrola group chairman
The company's broad strategic vision and its capacity for delivery have enabled us to be 20 years ahead of the current energy transition
Thanks to our commitment to clean energy, today we are one of the companies with the lowest emissions and an international benchmark for our contribution to the fight against climate change and to sustainability. We have set ourselves the target of reducing absolute greenhouse gases emissions by 2030 from a 2017 base-year and being carbon neutral by 2050 at a global level. In fact, our CO2 emissions are two thirds lower than those of our European competitors.
Iberdrola group is present today in the following countries and geographical areas, in which we are the leading energy utility and a benchmark, thanks to our sustainable energy model:
An international energy leader
See more information
Iberdrola is today an international energy leader with presence in the following countries and geographical areas:
Hide information
Carousel of images and videos
OUR STRATEGIC PILLARS
Outlook 2018-2022 Update presentation [PDF]
The current trends in the energy sector — the decarbonisation of the economy to combat climate change and air pollution, the need for more energy production to cope with increasing demand, the development of streamlined processes to handle growing competition and a new customer-oriented approach with more information and a proactive attitude — have sharpened the focus of our three global businesses: Networks, Renewables and Wholesale and Retail, and all of these are customer-centric.
The Iberdrola group accelerates the creation of value through five strategic pillars: profitable growth, operational excellence, customer focus, capital optimization and, finally, digitisation and innovation.

Our strategic pillars
Together with digitisation and innovation, we continue delivering sustained value creation for all our Stakeholders.
Digitisation and Innovation
More and smarter
clean generation
More and smarter
customer solutions
Digitisation and Innovation
More and smarter
clean generation
More and smarter
customer solutions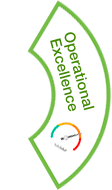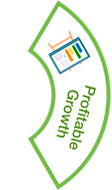 Good health and well-being
Clean water and sanitation
Affordable and clean energy
Decent work and economic growth
Industry, innovation and infrastructure
Sustainable cities and communities
Responsible consumption and production
Peace, justice and strong institutions
Partnerships for the goals
SEE INFOGRAPHIC: Our strategic pillars [PDF]
THE LINE TO FOLLOW: THE PATH TO SUSTAINABILITY
On its 2020 General Shareholders' Meeting, Iberdrola is launching a new design, with which it aims to not only bring together and give visibility to the elements on which the event is built, but also to transmit and amplify its corporate purpose and values. Therefore, the new graphics universe is based on the concept of the line to follow, which illustrates the company's path to sustainability. Come with us?
WE ARE THE UTILITY OF THE FUTURE