Start-up challenge: Offshore autonomous inspections
We are looking for solutions to optimise the inspection of our offshore wind farms using autonomous drones
PERSEO Start-up challenge Offshore wind
Iberdrola, through its PERSEO start-up programme, seeks to reduce costs, time and risks for its employees by automating various maintenance inspection processes using unmanned aerial vehicles (drones).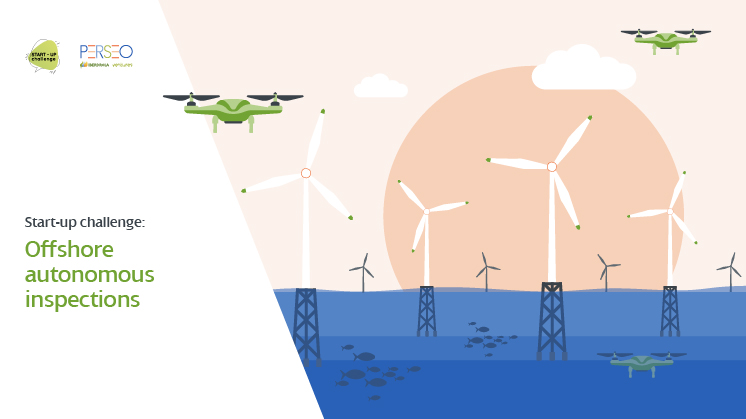 The winners will sign a partnership agreement and will be able to test their project through PERSEO.
Iberdrola has pioneered renewable energy as the top wind power operator worldwide for over 20 years. Given the current growth in the offshore wind market Iberdrola is well placed as a global leader. Offshore wind has become a leading growth vector for Iberdrola with current offshore operating assets of 1.26 GW and a further pipeline of 9.6 GW in both development and construction expected to come into operation by 2027 thanks to €30bn global investment
Description of the challenge
Through our start-up program PERSEO, Iberdrola is interested in fully autonomous or remotely controlled Unmanned Aerial Vehicles (UAVs) that will help to optimize the inspection of our offshore assets, particularly focusing on, although not limited to, anomaly detection, faults in wind turbine blades and foundations.
Offshore environments can be harsh with extreme weather conditions. The UAV solution must withstand these conditions to optimize maintenance inspections, reducing costs, time, and dangers for (our) employees.
Proposals for consideration could include:
Fully autonomous self-driving or remotely operated vehicles (FASDVs or ROVs).

Beyond Visual Line of Site (BVLOS) technology.

Inspection systems for wind turbine components (blades, foundations, etc.).

Minimal downtime (wind turbines continue operating, etc.).

Image/video capture and condition scan with subsequent data analysis (full inspection packages including 3D modelling / digital twin solutions).

Preventive maintenance and in-situ repair if possible/needed.

Solutions that can address both inspections (above and below water) could be assessed.
Also, the following attributes would be key:
Maturity and reliability

Self-operated

Investment and operational costs

Minimal work hours

Ease of deployment, use and minimal training

Continuity of energy production

HSE standard
The prize
The prize will be a test agreement with PERSEO or another Iberdrola company, which will bear the cost of these activities and provide the winner with all necessary technical support. The opportunity to test in an environment with real data to fully test the solution, providing access to equipment, teams, infrastructure, high technology sites and shared work areas. The project will be developed in collaboration with technical specialists from the Iberdrola Renewables and Offshore Business Areas.
If the trial or test of the concept is satisfactory, Iberdrola could offer the winner the opportunity to scale up the solution, adopting it by means of commercial agreements. What's more, PERSEO will consider investing in the participating company and/or the winner of the challenge.
 
TIMETABLE
17 October to 14 November 2022
Deadline for registration
January 2023
Announcement of the winner