Startup challenge: Agrovoltaics
Startup Challenge: Agrovoltaics
Solutions to sustainably combine photovoltaic plants with agricultural and livestock uses
Entrepreneurship Start-up challenge Photovoltaic energy
Four international projects have been selected as winners of the Startup Challenge launched in May 2021 by Iberdrola — through its PERSEO International Startup Programme —, which sought low-cost and environmentally friendly solutions to sustainably combine the deployment of photovoltaic parks and primary sector activities in rural areas.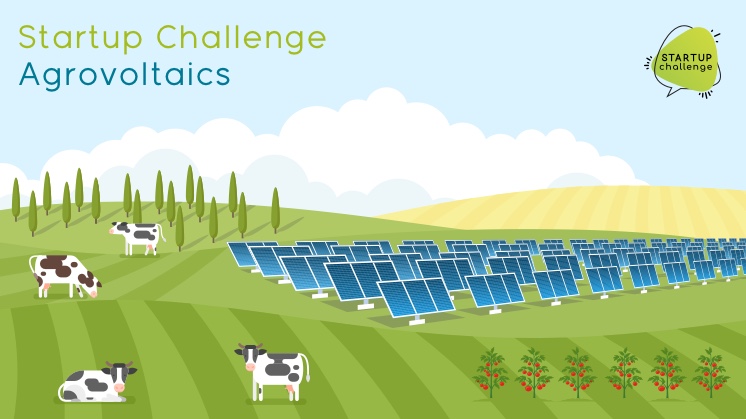 The winner will sign a collaboration agreement and be able to try out their project.
Through its PERSEO International Startup Programme, Iberdrola has selected four solutions to strengthen the coexistence of solar photovoltaic generation plants with activities related to agriculture, horticulture, livestock, fish farming and bee-keeping, so as to improve the efficiency and competitiveness of the installations and use of the land as well as to protect biodiversity. This is known as agrovoltaic energy.
The four solutions, chosen from 110 proposals from 32 countries, are designed for land primarily used for farming that can accommodate solar photovoltaic facilities, and that is located in areas facing the demographic challenge, where the rural economy is largely based on agriculture and livestock farming.
They will be implemented in four areas:
Irrigation
The Spanish company EcoEnergías del Guadiana has presented a pilot project to combine the cultivation of tomatoes under fixed or retractable structures that support solar panels, allowing to mitigate plant stress due to heat and hail, saving water and improving harvest results.
Viticulture
The Winesolar project — a collaboration between three Spanish companies: Techedge (advanced technological solutions), PVH (manufacturer of trackers and structures for solar panels) and Gonzalez Byass wineries — aims to protect vineyards by generating shade thanks to an intelligent tracker. An artificial intelligence algorithm will control these trackers to adapt them to the physiological needs of the vineyards, as well as to optimise photovoltaic production, and to collect data to measure humidity, temperature, etc.
Fruit trees
The French company Ombrea also uses artificial intelligence to create shade. It presents a solution that spreads out and retract solar panels to modulate light and shade, depending on the weather data collected on the ground through sensors. The aim is to protect plants from heat waves, drought, hail or frost.
Animal welfare
The FarmLife cow behaviour monitoring and analysis platform, from the French company itk, aims to save time and increase productivity by providing decision-making data based on four pillars: reproduction, nutrition, comfort and health.
The prize
The prize will consist of us signing a collaboration agreement for the development of a proof-of-concept with PERSEO or any other relevant Iberdrola group company, who will assume the costs and provide the winner with the necessary technical support, giving access to infrastructures and real data to test the solution.
If the assay or proof of concept is satisfactory, Iberdrola may offer the participant the opportunity to scale up the solution by means of commercial agreements.
In addition, PERSEO may consider investing in the participant and/or challenge winner.
Committed to solar energy
Iberdrola group backs renewable energy as the way to drive the energy transition and the necessary decarbonisation and electrification of the economy, in line with its commitment to the fight against climate change. The group plans to invest 150 billion euros by 2030, raising its renewable capacity to 95 GW by the end of the decade.
Solar photovoltaic generation is one of Iberdrola's main pillars of growth, resulting in the installation in 2020 of 874 MW of new solar capacity as a contribution towards achieving nearly 35 GW of renewable installed capacity worldwide. Iberdrola has the largest operating photovoltaic plant in Europe — Núñez de Balboa (Badajoz), with 500 MWp — and is planning an even larger one: Francisco Pizarro, which will be located in the province of Cáceres and will have a capacity of 590 MWp. External link, opens in new window.