INTERVIEW TO SKYQRAFT FOUNDERS
"Our aim is to revolutionise infrastructure inspection, to make it safer, more efficient and more sustainable"
Business Employment Entrepreneurship
David Almroth, Umar Chughtai and Sakina Turabali are an example of how to go into business sustainably and successfully. These three youngsters from Sweden, Pakistan and Sri Lanka dreamed that electrical installations could be inspected more efficiently and above all in a less harmful way to the environment. And, to do this, they founded Skyqraft, the startup that won the Startup Challenge launched by Iberdrola group, Resilience to Natural Disasters.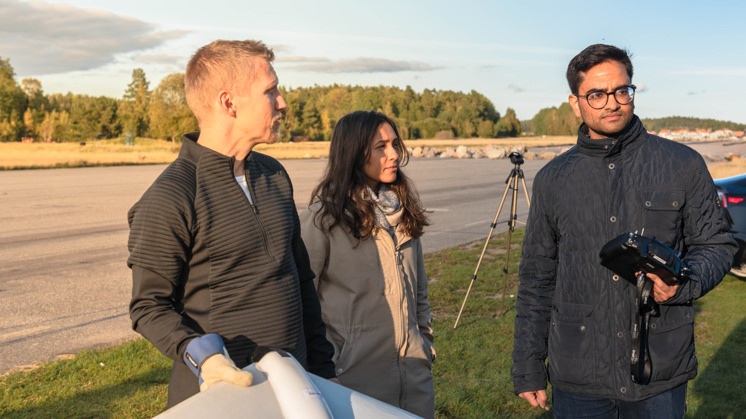 The members of Skyqraft met at an international startup generator firm.
After meeting in Stockholm at an international startup generator and risk capital firm, they decided to join forces in an incubator, and that is where Skyqraft was born. In this interview they tell us why they decided to take part in the Startup Challenge and what it means to them to have won it.
So, what exactly is the project that won you Iberdrola's Startup Challenge all about?
It is about inspecting New York gas and electric's powerline in Brewster (USA) area using unmanned airplanes to gather images and video to detect any risk to the powerlines, both before and after a storm. The solution will include:
360-degree HD video.
High resolution images of the assets inspected.
An automated map that pinpoints all the inspection information.
Faster damage assessment and enhanced images to improve planning and service recovery after a storm.
How did you arrive at this solution?
We wanted to make this industry more sustainable, which definitely is not the case when using helicopters for inspection. On a simple calculation we found that helicopters today have 500-700 g CO2 emission / km (3-5 times higher than for diesel cars). We want to change this. Therefore, we are flying unmanned airplanes using high quality images and 360 videos, inspecting both the distribution and the transmission grid. But our future goal is even bigger to provide our customers with a risk assessment system using machine learning, where any threats to the grid are detected automatically.
This solution is requested by our customers and every feature is built by communicating with our customers frequently and understanding their needs of the solution. Afterall, we want to build a service that they need and want to use it. Building something we think they need and then convincing them to buy our service is something we want to avoid doing right from the start.
How can artificial intelligence and machine learning improve the inspection of electricity installations?
Human makes mistakes. Imagine watching hundreds of hours of boring videos and pictures of powerlines and finding faults or damages to the powerline. Instead, imagine a machine learning software that suggests all the problems a human inspector should take a look at. This way the human can do a more qualified and meaningful job, which will be to acknowledge the problems as real problems or not. The machine learning system will get better over time and help the human inspectors to find more problems with higher accuracy.
Machine learning will only save time, effort and be efficient at all levels of inspection.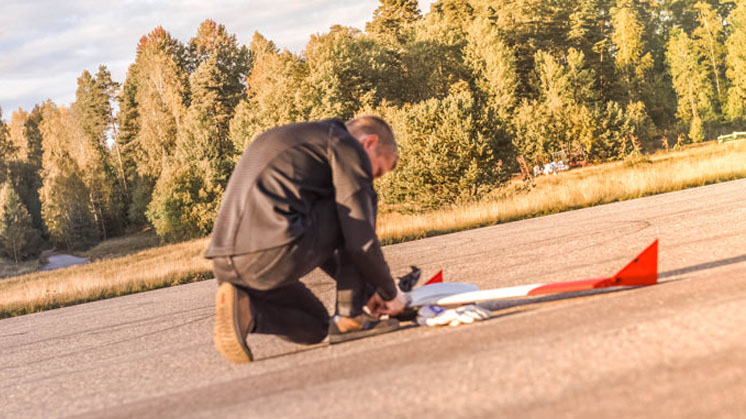 They work with drones to inspect infrastructure in a more sustainable and efficient way.
Why did you decide to take part in the Startup challenge?
The Iberdrola challenge is definitely not another challenge for us that we took part in. This challenge was interesting as it gave us a real customer. That's definitely worth a prize! For an early startup like ours it all about the learnings. The US market today is one of the biggest markets for powerline inspections. Therefore, this pilot goes a long way and helps us to understand how inspections are done in another market than our own, learn a customer's expectations of our service and most importantly build relationships and secure any contract in the future.
This also helps us build a global service that can scale already.
What does being selected mean for you? How is it going to drive your project and your company forward?
Winning this challenge just fast forwarded our goal to scale to the US market. For a startup otherwise, especially in this industry could take a lot of effort and time. Which a startup does not always have as competitions starts to pop in. The US market today is one of the biggest markets for powerline inspections with market size of USD 658 million. We are so thrilled and excited to fly for New York gas and Electric next year.
With winning the Iberdrola challenge and closing our 2nd round of investment all at the same time, we are now focusing on building our machine learning software to detect threats automatically with our first recruits starting soon. This way scaling to the US and other markets gives our a very strong competitive advantage.
How do you think initiatives like Iberdrola's International Startup program (Perseo) can help startups and new enterprises?
Initiatives like this help startups to access to Iberdrola's ecosystem and help access to market know-how and key technologies. Which is quite challenging for a startup otherwise. It helps with pilot programs to access large volumes of data and test technology in a real environment. Iberdrola can also invest in the future.
It's not just the startups that benefit from these challenges, it's the customers and most importantly the environment, looking at the sustainable issue we are facing currently.
We'd like to know more about your startup. What is its line of work?
Skyqraft
External link, opens in new window. provides smart infrastructure inspections using unmanned airplanes to gather images to detect any risk to the powerlines automatically.
It is a well-funded early stage AI startup focusing on airborne data collection for infrastructure inspection. By using unmanned airplanes Skyqraft can collect high volumes of image data which will be used as an input to a machine learning-based risk assessment system.
We aspire to revolutionize the infrastructure inspection market by making it safer, more efficient and most importantly, sustainable.
Skyqraft is the first company in Sweden with a license to fly fixed wing airplane beyond visual line of sight.
How did you start it?
All 3 of us started the company in 2019 in January. It has not been too long, but one year in a startup is equal to seven years in a normal company, they say. So, we feel just that!
We all met at Antler — a global startup generator and early-stage VC — in Stockholm, Sweden, back in November we joined the incubator to start a company together. Surprisingly, we did not know each other before joining the program. Since November, we spent a lot of time together just to get to know each other and finding the chemistry. We evaluated our different types of skills, backgrounds and experience and sat down to brainstorm different ideas. In this creative environment, Skyqraft was born.
David Almroth, one of the founding partners, with one of its drones.
Can you tell us a bit more about each of you? Where are you from? How did you meet? Do you have previous experience in startups or other enterprise projects?
The choice of using long range drones for powerline inspections came to life as Umar Chughtai, who is from Pakistan and has worked with drones and studied Aerospace Engineering in Sweden.
David Almroth, who is originally from Sweden, has worked with the power grid before and has spent twenty years in software development. David also had his own startup in 2012.
Sakina [Turabali] is a Sri Lankan who moved to Stockholm six years ago. She has extensive experience in sales and marketing and played a big role at a very successful startup, Truecaller, in Sweden to grow the company from a startup to scaleup.
You are a very diverse and multi-disciplined team. Has this been of some benefit to you?
Definitely. Actually, we think diversity is our secret sauce. Since we come from different backgrounds, we never get to think the same. We have very conflicting thoughts and have different types of thinking. Therefore, we come up with very innovative ideas together.
Diversity has helped us improve our product/service extensively. The community, the environment, how we were raised, the music we listen to, the people we hang around, all those things are different. This means that we are creating a service that better serves different cultures already.
Having a female founder has also helped us secure our investments in the company and her attitude towards collaboration rather than just looking at competition really drives the business forward.
What are your next projects?
Our next project is of course to build our machine learning system and build a software that predicts damages to the grid automatically using machine learning and expand fast across the whole of Sweden, Finland and the US.