Accelerating Australia's energy transition
Business Iberdrola International
We have become one of Australia's market leaders. We have one of the largest renewable energy asset parks in the country, which is in the process of transitioning from a centralised generation system based on large fossil fuel facilities to a generation system driven by wind and solar power.
We are leading Australia to a clean energy future.
Iberdrola is targeting Australia as a new development platform for its renewable strategy.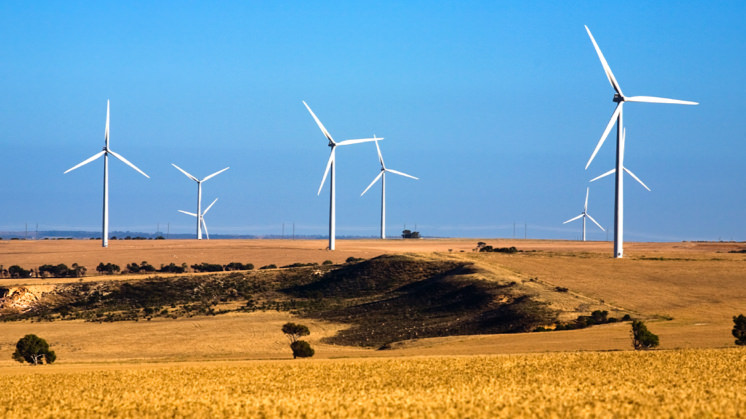 Alinta onshore wind farm.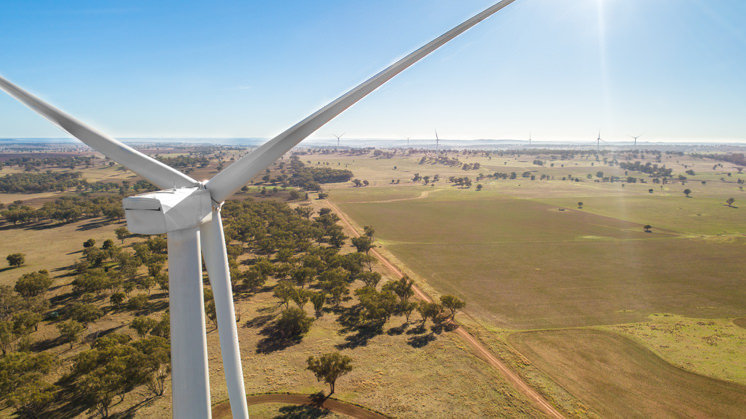 Bodangora onshore wind farm.
As part of our commitment to leading in a sustainable and environmentally friendly market, we have become one of the largest renewable leaders in Australia and continue to invest in new assets in the country. We have committed to a major investment of between €2 and €3 billion in a region with abundant wind and solar resources with the aim of driving the country's energy transition and reaching 4,000 MW of renewables in the coming years.
Iberdrola, leader in the Australian energy market
Iberdrola's activity in Australia began in 2020, when it successfully completed in record time a friendly takeover bid for the Australian renewables company Infigen Energy, now known as Iberdrola Australia

Enlace externo, se abre en ventana nueva. . This transaction reinforced our entry into this new priority market, where we had just acquired our largest onshore wind facility in the world at the time: the 1,000 MW Mount James wind farm.
Our consolidation in Australia was further strengthened at the end of 2021 with the acquisition of Autonomous Energy, a leading Australian engineering and construction company offering a wide range of green energy solutions. As a result of this transaction, Australian customers increasingly have access to integrated and optimised green energy solutions that reduce their energy costs and emissions.
Iberdrola Australia's main businesses are:

Renewables. The company, through Iberdrola Renewables Australia

Enlace externo, se abre en ventana nueva. , has one of the largest renewable energy parks in the country, located in the states of New South Wales, South Australia and Queensland.
In addition to our own resources, we also currently contract in-country production from other renewable operators, enabling us to serve a wide range of customers.
Some key figures
1,581 MW
installed power
85 %
renewable energy
+1,900 MW
renewables in development
Data updated at the end of the first half of 2023
Ignacio S. Galán, Executive Chairman of Iberdrola
Australia is consolidating its position as one of Iberdrola's key markets. The country's abundant wind and solar resources, as well as the pace of technological development, place this region in a privileged position.
Our most emblematic projects and installations
Boosting ESG criteria in Australia
Sustainable development is real when it takes into account the creation of value for the rest of the customers or people involved. At Iberdrola, we remain committed to our Stakeholders and align our strategy with the three pillars used internationally to measure the impact and sustainability of corporate work: environmental, social and governance (ESG) factors, in order to contribute to achieving sustainable development. Here are some of Iberdrola Australia's ESG achievements and initiatives:

The company is committed to respecting the Clean Energy Council's "Best Practice Charter" in its infrastructures, which includes respecting local communities, protecting biodiversity and boosting the local economy by offering local employment and recruitment opportunities, among other actions.
Iberdrola Australia carries out extensive consultations throughout the life cycle of its projects to ensure communication with the communities where it is present.

The company sponsors community projects that aim to make a positive difference in the areas of education, sport, social welfare, cultural festivals, youth programmes, among others.

Iberdrola Australia supports the Women in Energy Network (WIEN), an energy industry initiative founded in 2022 to promote the advancement of women in the energy industry through a series of meetings, knowledge sharing and leadership opportunities.