Hyperion Robotics produces the first sustainable concrete structure for Iberdrola, using 3D printing and recycled materials
R&D Engenharia Entrepreneurship Interviews
Iberdrola has contributed to making one of the award-winning solutions in the Start-up Challenge 'Automation of the construction of electrical transmission facilities' a reality, together with the Finnish company Hyperion Robotics. An innovative technique for the sustainable construction of concrete structures: with 75 % less materials, up to 20 % less direct costs and the same levels of quality, efficiency and safety. This pilot project marks a milestone in the company's aim to minimise the carbon footprint in the construction of its transport network.
Professionals from Hyperion Robotics, Iberdrola and Peikko Group participating in the project.
Printing of sustainable concrete base in Helsinki.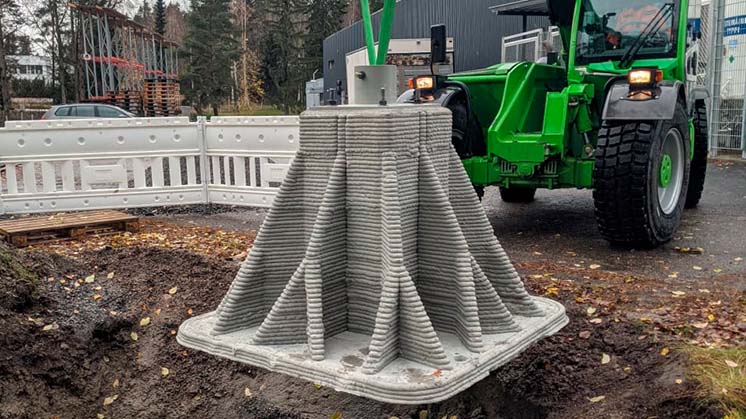 Transport to the location of the sustainable concrete base in Lahti.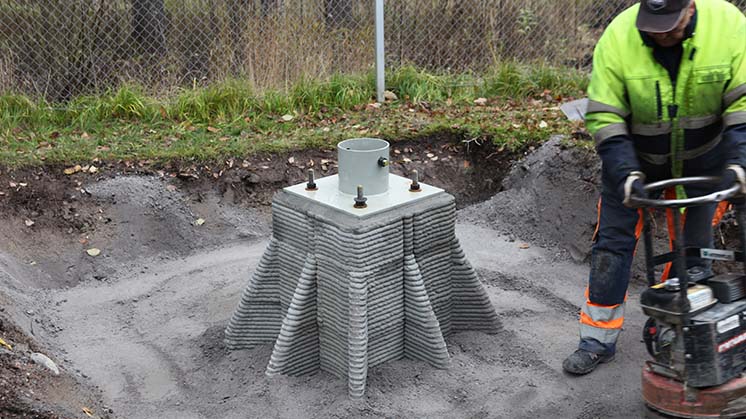 Installation of the sustainable concrete base.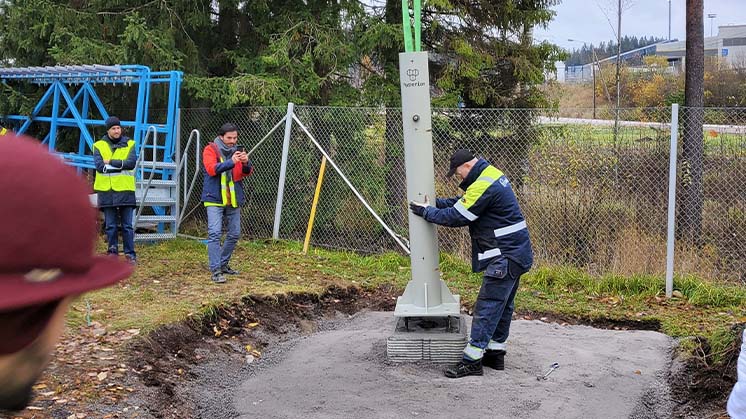 Installation of the sustainable concrete base.
For the members of Hyperion Robotics, the "energy infrastructure of the future" will necessarily involve construction that is optimised to be faster, cheaper and more sustainable. Thanks to the support provided by the Iberdrola group - after being selected in the Start-up Challenge for the Automation of the Construction of Electrical Transport Installations together with Sensohive - the Finnish company has developed a pioneering pilot project for the electricity company in which it applies its 3D-printed reinforced concrete solution to the construction of a pillar of an electrical substation.
Once the concrete base was designed and printed at Hyperion's Helsinki facility, the element was transported in November 2021 to partner Peikko's test location in Lahti, 100 kilometres away, where it was installed for testing. The live test, witnessed not only by local teams but also by an engineer from the Iberdrola group in Spain, demonstrated that this sustainable infrastructure can withstand 3 times its design load - the maximum amount of stress that can be applied to a structure - using only a quarter of the material normally used.
The automatic, large-scale production of such sustainable concrete structures, applied to construction projects of all kinds, would be a huge optimisation of traditional reinforced concrete construction methods.
Fernando De los Rios, CEO of Hyperion Robotics
Thanks to optimised base printing we have succeeded in all three of our project objectives: reducing cost, lead time and CO2 emissions
The CEO of Hyperion Robotics, Fernando de los Rios, told us in an interview more details about his start-up, its innovation project and the company's experience collaborating with Iberdrola. The collaboration has been completely natural as the two companies are aligned in their vision and mission to create value in society in a sustainable way.
How would you introduce Hyperion and its team?
Hyperion Robotics is a leading technology company in the transition to sustainable and automated construction. Our team consists of experts from both research and industry in fields such as architecture, construction, engineering, 3D printing and automation.
We are passionate about construction and how technology influences the way we build. That is why we are convinced that concrete construction needs to transform to make the industry more efficient, safer and more sustainable.
What is the project that won you the Iberdrola Start-up Challenge?
In this Challenge, which we were so excited to win, Iberdrola asked us to automate and optimise the production of concrete structures in the substations of its power plants. The aim of our 3D printing project was to reduce the cost, lead time and CO2 emissions or carbon footprint compared to traditional methods. By printing optimised bases, with 75% less materials, we have succeeded in all three aspects.
Winning this challenge and being able to work with Iberdrola, one of the leading renewable energy companies, has been very important and a great experience. We now look forward to continuing our cooperation and expanding the implementation of our technology in other energy and industrial projects around the world.
What are the main advantages of your 3D printing solution with a robotic arm?
Our microfactories (as we call each of the small "factories" that make up a robotic arm) combine the benefits of automation and optimisation of 3D printing design with the aspect of sustainability and reuse of waste materials.
Overall, this can help our customers save 50% on project lead times, up to 20% on project costs and improve safety and minimise risk by reducing human intervention and simplifying logistics.
In addition, by reusing waste materials from different industrial streams to create the 'ink' for this print, we have been able to develop a series of concrete mixes - such as geopolymer - that replace both cement and aggregates, reducing CO2 emissions by up to 90 % and following a circular economy model.
What makes this type of foundation more sustainable?
Some of the reasons why we have been able to achieve savings of approximately 90 % of the associated CO2 compared to traditional foundations are:
The use of 75% less materials thanks to the topological optimisation of 3D printing, which through structural analysis reduces the weight of a part while increasing its strength.

The use of recycled waste materials, reducing the proportion of cement.

Reducing CO2 from logistics by reducing materials requiring transport to the location.

Minimisation of waste in the construction process by not needing formwork moulds.
How is the reliability of these 3D printed structures tested?
3D printing is a relatively new technology, so we are aware that it requires extra reliability testing. At Hyperion we always follow a rigorous testing regime with our in-house team and with the help of reputable institutions such as Eurofins to comply with building codes and standards.
In this project with Iberdrola, testing of the materials and the in-situ foundation at the Peikko site revealed a strength three times higher than the engineering requirements for that part. This was quite impressive as we were able to execute it with a quarter of the materials that would be used in a traditional foundation.
What is Hyperion Robotics' business model?
Our core product, the micro-factory, is a comprehensive solution for the production of concrete structures optimised to be more efficient and sustainable.
On the one hand, we sell our micro-factory solution to contractors for them to execute their own projects or constructions. On the other hand, we rent our micro-factories to industrial customers such as Iberdrola for specific projects or for specific periods of time. In the second case, we partner with a local contractor who helps our customers to execute their project.
Complementary to this, we are able to help our customers recycle waste materials and reuse them in their sustainable concrete constructions. We also provide design optimisation, engineering and technical support services.
What is the potential client or target industry for this project?
In this specific case Iberdrola has been our client and Peikko

our collaborator, who provided the steel components and helped us in the execution of the project. There is a great opportunity for this type of construction in the renewable and energy sector, as in the case of a client like Iberdrola, but bases like this can also be found in all types of industrial projects, infrastructures, civil works and construction in general.