Offshore wind power is key to Iberdrola's future growth
Twenty years ago, the group was a pioneer in onshore wind generation, and now it is doing the same in the offshore wind market. During the last year, offshore wind power has become a major business growth vector for the company. At the end of the first half of 2021, the company already had more than 1.3 GW of installed capacity, which it will triple by building a further 2.6 GW by 2025. The enormous expansion of the company's pipeline of this technology will allow Iberdrola to have 12,000 MW in operation by 2030, with investments totalling almost 30 billion euros worldwide during the decade.

Driving offshore generation around the world
We are ready for the future with the biggest renewables pipeline in the industry
Within Iberdrola's renewables pipeline, which totals 81.5 GW, offshore wind has become the second-most-important technology thanks to strong growth in the last year. The company has invested in new growth platforms with enormous potential, such as Poland, Sweden, Ireland, Japan, Korea, Taiwan and Australia, which has made it possible to increase the size of our offshore wind stable to 25.2 GW. This ensures that we can fulfill our plant to 2030, when we will have 12,000 MW in operation.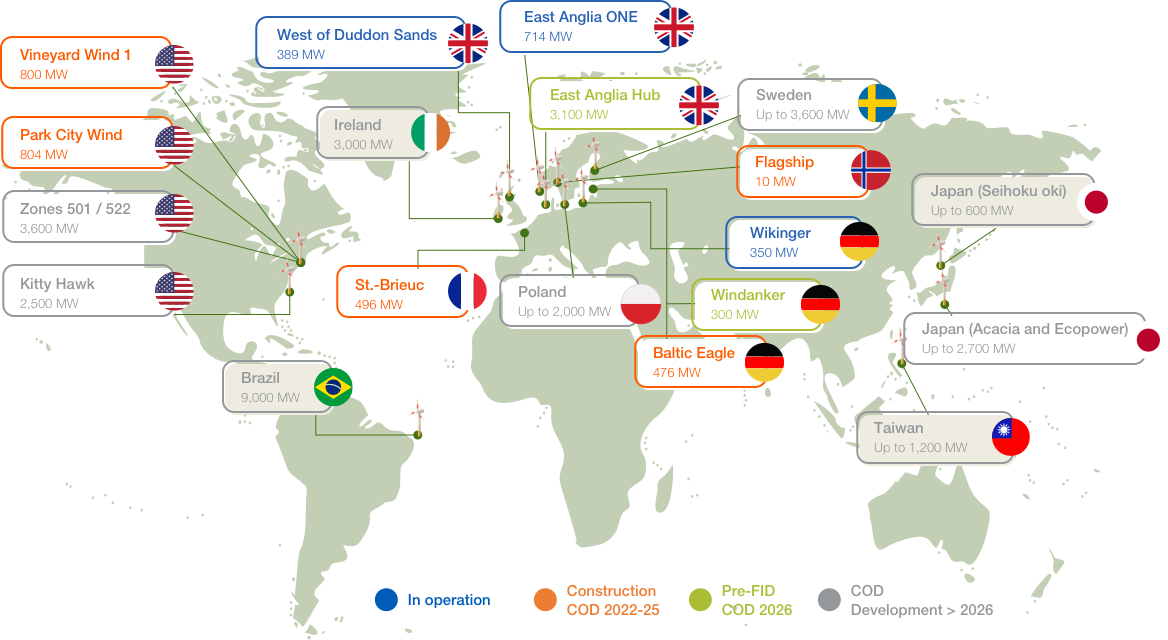 *Data from the end of 1H 2021.
Our major offshore wind projects
We are continuing to grow to establish ourselves as the world leader in offshore wind farms
As well as the wind farms in development, Iberdrola has an additional pipeline of 22.6 GW. This puts Iberdrola in an optimal position when participating in auctions and tenders planned for the coming months in its new growth platforms for both projects in its existing pipeline (United States, 3,600 MW; United Kingdom, 3,100 MW; Japan, around 2,000 MW; Germany, 300 MW) and for new pipeline (Poland, 14 GW of capacity up for auction; United Kingdom, 10 GW of capacity up for auction; United States, approximately 7 GW; Ireland, around 5 GW of national target 2022-2025; France, 1.6 GW; Denmark, 1.6 GW; the Netherlands, 1.4 GW; and Taiwan, 6 GW).
Have you ever wondered how a wind turbine tower can support so much weight? Or why they are all orientated in the same direction? It is curious to see how wind turbines appear to work in sync. It's like watching a football team, with all of the members placed strategically and turning in the same direction. It may seem coincidental, but it is not: every detail of their functioning is governed by carefully studied and defined reasons. Find out all about them!
Read more
The wind's power is stronger over the ocean than on land, which is why offshore wind power has developed in recent years. Until recently, they could not be installed in very deep or complex seabed locations because they were based on fixed structures, something that has changed with the emergence of floating structures. Wind turbines can now be installed on floating platforms that are anchored to the seabed by means of flexible moorings, chains or steel cables.
Read more
Offshore wind energy is the clean and renewable energy obtained by taking advantage of the force of the wind that is produced on the high seas, where it reaches a higher and more constant speed than on land due to the absence of barriers. In order to make the most of this resource, mega-structures are installed that are seated on the seabed and equipped with the latest technical innovations. Discover what these real sea giants are like and how they work.
Read more