INTERVIEW WITH ENERGIOT, WINNER OF THE BIRDLIFE PROTECTION CHALLENGE
Energiot, an energy harvester to help us protecting the birdlife in our networks
The company which has won the Iberdrola birdlife protection Challenge, Energiot, uses the Internet of Things (IoT) to monitor public service networks so they do not need to be maintained. Their solution to the problem was to create an autonomous predator simulator that would scare the birds away, allowing them to avoid collisions. Find out more about them.
This Barcelona-based startup was created through the investigations of Granada native Gonzalo Murillo — an electronic engineer named Europe's newest Innovator under 35s in 2016 by MIT Technology Review —, who joined forces with Joana Cases and Jaume Esteve. He met them at the Institute of Microelectronics of Barcelona (IMB-CNM) of the CSIC after stays in several countries.
After completing several Climate KIC and EIT Innoenergy acceleration programmes and winning the IMB-CNM CleanTech Camp award, they founded Energiot

External link, opens in new window., a spin-off of that institute.
Their goal: to pursue more accessible, cheaper, safer, better-quality electricity with less environmental impact.
Their approach to the birdlife protection challenge was to use a self-powered device that, when it detects the presence of birds near the power lines, makes a noise that drives them away.
What exactly is the project that won you Iberdrola's Startup Challenge?
Energiot develops self-powered IoT devices (Internet of Things) based on energy harvesting technology to monitor utility service networks (energy, water, gas) without needing maintenance.
We are currently focused on smart electrical grid applications. Using our parented technology to harvest residual energy, we were able to develop a low-cost device that does not need a battery to operate and can monitor grid assets such as conductors, towers, insulators or substations.
Iberdrola or other network operators can use this information to optimise their operations and maintenance and thus achieve an estimated reduction of up to 20 % in their costs. By this means, they can quickly detect electrical failures, carry out predictive maintenance of assets, better integration of renewable sources and allow for dynamic management of maximum capacity transmitted over power lines, known as Dynamic Line Rating (DLR).
And to respond to the challenge presented by Iberdrola, Energiot has proposed an innovative solution for the protection of birdlife around power lines.
They use a device added to the Energiot smart grid system which can repel birds that can land on the conductor or pylons and thus avoid electrocution, which has an irreparable ecological impact. This device has two parts. First, a bird presence detector, which uses different types of sensors that detect when a bird approaches the power line. When it detects a bird, this device triggers an alarm that emits a noise, alerting the bird, which then moves away from the conductors or power lines. This saves the animals and avoids incidents that could threaten energy security in cities and other areas.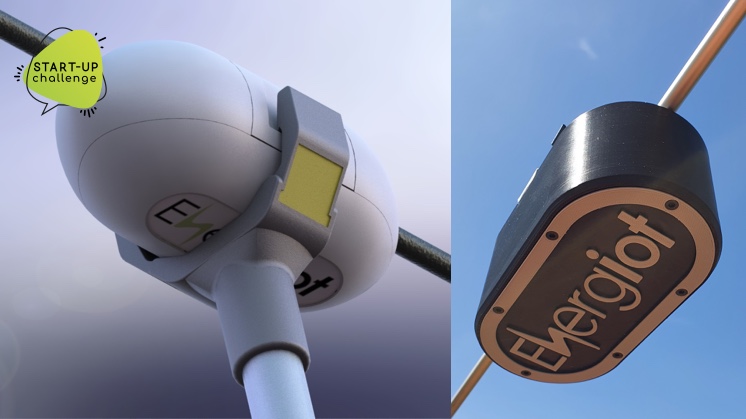 The devices detect the birds and emit a sound to scare them away.
How did you come up with this solution?
When we saw that Iberdrola and other energy distribution and transmission companies faced the same challenge of bird protection, we thought about how our smart device could be used for this purpose. We investigated the solutions available on the market to repel birds and we adapted the best options to create a device that could work autonomously, using our piezoelectric energy harvesting technology and supplementing it with a solar panel and a battery.
Our standalone IoT device for network monitoring is based on piezoelectric technology developed over more than 10 years of research. Energiot's founder, Gonzalo Murillo, is an electronics engineer who earned a PhD in microelectronics with an emphasis on harvesting ambient mechanical energy with micro-resonators. Based on his research, which helped him to be named Europe's Most Innovative Innovator under 35 in 2016 by the MIT Technology Review, he was able to develop a low-cost mechanism for powering low-power IoT devices, thus avoiding the use of batteries.
What are the innovations of your project? What sets you apart or makes you unique?
Energiot's great innovation lies in its ability to develop autonomous devices that do not use batteries. The piezoelectric technologies used, which are patented and under industrial secret, allow our devices to work in any asset of the electrical networks: conductors, towers, insulators and substations.
Where it differs from other market solutions is that this device is much cheaper, and less bulky and heavy, allowing for global deployment. It is more flexible and does not need to be maintained: you just install it and forget about it. It is easy to operate and install.
Why did you decide to take part in the Startup Challenge?
For us, Iberdrola is a model company. It is one of the most innovative distributors worldwide, and we think it is an excellent opportunity to approach them and launch this project. Energiot's goal is for us to become one of the leading IoT companies worldwide, especially in the field of smart grids. Also, sustainability is an important value for us and the challenge proposed by Iberdrola allows us to put our solution into practice and have a very positive ecological impact.
What does it mean for you to have been selected? How will it contribute to the progress of your project and your company?
We are very pleased to have been selected and very grateful for all the support and dedication of the Iberdrola team. Everything has been very professional and transparent. This collaboration has been very satisfying and enriching for us. The fact that we have been selected validates the added value and quality of our solution and gives us the opportunity to carry on, innovating and working on a solution that will cause a big market impact.
Now that the pilot project has been developed and assessed, we can improve our solution with the help of Iberdrola — and at the end of the project launch a commercial version of both products adapted to the company's needs: for protecting birds and as an IoT device to optimise smart grids.
¿How do you think initiatives such as Iberdrola's International startups programme (PERSEO) can help startups and new companies?
The product and market validation process is a very difficult one for startups, as many clients and investors are averse to risk and innovation. This means it takes longer and is more difficult to launch a disruptive innovation solution, as it requires a high level of capital to develop the solution. This initiative, PERSEO, is going down very well with startups, as it brings us closer to the client and allows us to co-create. It is a vote of confidence and also gives us the necessary resources to drive the solution. It would be a very important step for the market if more large companies had such innovation initiatives and support for startups, contributing not just with financial resources, but also with a willingness to conduct pilots and contribute technical expertise and market insight in the development of innovative solutions.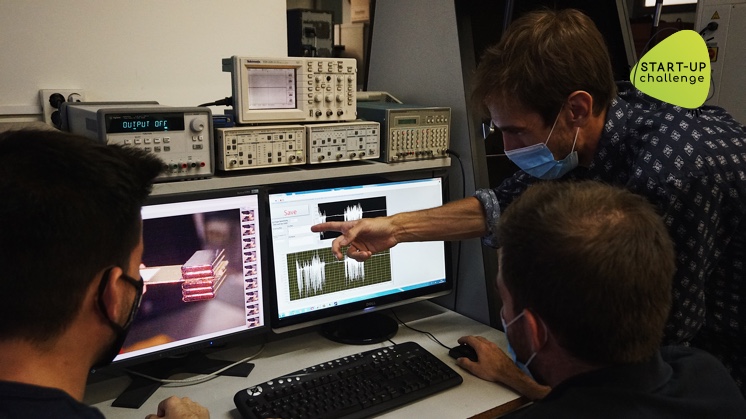 Part of the Energiot team at work.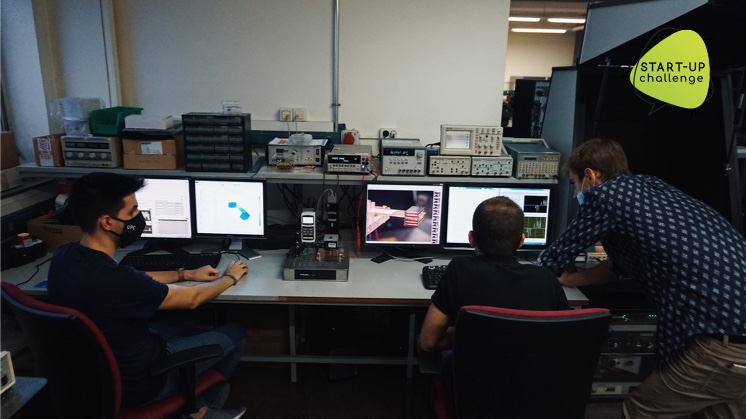 Part of the Energiot team at work.
We'd like to know more about your startup. What is your line of work? How did you create it?
Energiot is a technology company based on the research of its founder, Dr Gonzalo Murillo. It was founded at the end of 2017 thanks to the support of Climate KIC and EIC Innoenergy and is a spin-off of the Barcelona Institute of Microelectronics (IMB-CNM) of the CSIC. In late 2018, the company focused on IoT solutions for electrical networks, due to the improved technological viability of our devices in this sector and the greater overall impact on communities. We want to help electricity distribution and transmission companies to achieve more accessible, economical, safe, quality electric energy with a lower ecological impact.
Our line of work today is to bring autonomous IoT solutions to the electricity sector. Our main product is an IoT device to monitor power grids and optimise their operation and maintenance. Working alongside Iberdrola, we are also developing an added functionality to prevent bird accidents. In so doing, we hope to reduce the ecological impact associated with the distribution and transmission of electricity, which is so necessary in 21st century society, while safeguarding the ecosystem and its birdlife.
In addition to the project proposed for the Iberdrola Startup Challenge, what other products or services do you offer?
Basically, our core product approach is already being applied to the project with Iberdrola. Our device collects several key parameters from the power grid, such as temperature, humidity, acceleration, light or magnetic field. This information is sent to the cloud and transformed into useful information for a range of applications for network operators:
Predictive maintenance of network assets,

instead of the time-consuming regular maintenance used today. By this means we can detect when the end of an asset's useful life is approaching, before the asset fails, thus optimising its lifespan and avoiding unnecessary maintenance costs. This is very positive, as it allows companies to avoid redundant and recurring maintenance staff costs.

Optimising the operational load of the grid and increasing the integration of renewable energies.

Today, renewable energies are being used a lot more, which a priori seems wonderful news for the sustainability of the planet and thinking in terms of a greener future which lies ahead of us. However, using generators which are spaced out and which depend on

changing variables

(light or wind) means it is more complex and costly to produce electricity. Billions of euros are lost around the world every year in balancing the flow of energy generated and consumed. It is imperative to have real-time knowledge of the maximum capacity that can be transported by the different lines of the network (which is also changeable and dependent on ambient temperature, wind, rain and orography) so that the network can be managed dynamically. This is known as Dynamic Line Rating (DLR) and will be essential in the coming years to allow greater penetration of renewables.

Identifying accidents and events.

8 % of accidental forest fires are caused by vegetation coming in contact with power lines. Besides causing a major ecological catastrophe, this also severely affects the operation of the line — so it is crucial to detect this event as soon as possible to reduce the impact at all levels. Illegal connections to electricity grids, or hook lines, as they are widely known, are a fraud that all users pay for and that may be reduced by dynamically knowing the flow of electricity via the networks.
All these problems generate additional costs and damage the energy supply. Our device helps operators to monitor in real time and tackle these challenges. Our goal is to create a "Google Maps" of the electricity grid that will enable dynamic grid management in the future.
Can you tell us a bit more about each of you? Where are you from? How did you meet? Do you have previous experience in startups or other enterprise projects? We would like to hear your story.
Gonzalo Murillo was born in Granada, where he studied Physics and Electronic Engineering. He moved to Barcelona to pursue his PhD at the Universitat Autónoma de Barcelona (UAB), and he completed residences at major international centres in France, Denmark, Germany, and the United States, as well as receiving training in entrepreneurship and business management. Later, working at the International Institute of Nanotechnology in Portugal, he decided to return to Spain, to the Barcelona Institute of Microelectronics (IMB-CNM, of the CSIC).
It was there that he met Joana and Jaume, and where the three of them set up Energiot

External link, opens in new window. in 2017, after winning the CleanTech Camp award and carrying out several Climate KIC and EIT Innoenergy acceleration programmes. They have an impressive track record in innovation, research and development. Pablo Ribeiro was later to join the startup. Pablo, a Brazilian with a background in business and product development, worked at Endeavor, the largest support network for high-impact entrepreneurs with business acceleration. It was thanks to Innoenergy and through an interview in a nice coffee shop in Barcelona that Gonzalo, Pablo and Mario Acosta, a brilliant Energiot product engineer, got to know each other. They all hit it off, and because they were interested in the same goal, they began working together on this dream in 2018.
What are your next projects?
Today, in addition to the pilot with Iberdrola, we are carrying out another project with a French company on a Pacific island. We are also in talks with potential clients in Spain, Portugal, Colombia and Chile. Over the next few months, we hope to validate all the use cases in these pilots, and to be able to make more massive rollouts in 2022. Also, we are looking forward to launching our intelligence platform Grid Analytics for monitoring power grids, aimed at making them smarter. Our devices can also be used in other applications such as smart mobility or predictive maintenance in industry 4.0, so in the future we expect to be able to diversify our product range.