WHAT IS A WEARABLE?
Wearable technology is more than an accessory
Wearables are the penultimate milestone of the technology revolution, and they open the door to a new personal universe. They track what you eat, monitor your heart rate, warn you when you are getting stressed, and make it easier to communicate with those around you. They are part of your image - we wear them as watches, t-shirts, earrings and bracelets - and they know things about you that you don't.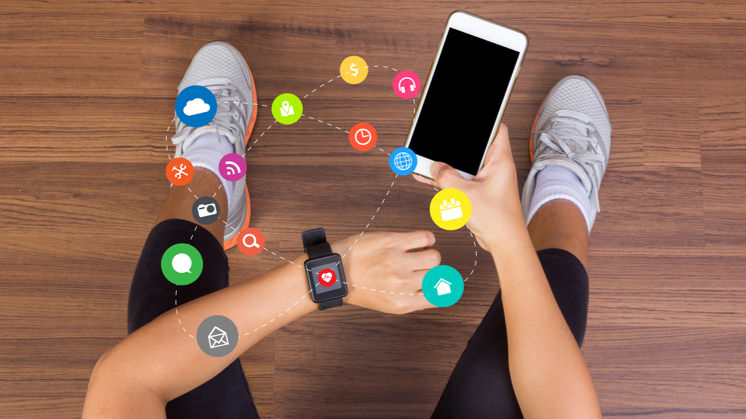 Wearables are the result of the technology evolution achieved with component miniaturisation.
Thursday, 9:00: a group of American students visits the Super-Kamiokande, a neutrino observatory in Japan, without leaving the United States. Thursday, 12:30: the same students go on another trip, this time to the CERN particle accelerator in Switzerland. We are not describing scenes from the brilliant futuristic series Black Mirror, but real situations made possible by the use of wearables, like the Oculus Rift virtual reality helmet.
USES OF WEARABLES
Wearables can track what you see, your pulse, your breathing rate, how long you sleep, and even when you are feeling well or stressed out. They also encourage good eating habits and health. The industry produces different types of wearables: from wristbands, necklaces, rings and earrings to garments. And, of course, wrist watches. These devices have been a massive success. According to a report published by the International Data Corporation (IDC) in 2018, 10.4 million units of the leading model in the market were sold in 2018.
External link, opens in new window.
SEE INFOGRAPHIC: Types of wearables [PDF]External link, opens in new window.
These products are possible because of the revolution caused by the miniaturisation of electronic components, the development of communication protocols, geolocalisation and data management software. In short, wearable technology marks a new stage in the development of the mobile devices industry. While the first phase was dominated by social communication, in other words, the possibility to communicate instantly, it is now moving into a more personal space.
The big difference compared to smartphones is that wearables are worn on our bodies, freeing up our hands. They can even be right on our skin. VivaLnk's, a health sector company that creates wearable solutions to monitor people's vital signs and biometrics uses eSkin to insert an electronic chip in an adhesive patch that communicates with patients' tables or mobile phones.
THE FUTURE OF WEARABLES
Connecting humans so closely to technology is a risky business. In this new context, the success or failure of these products depends on the customer experience. Achieving success, therefore, depends on app developers' ability to create programmes that will win over potential users. For the moment, and in view of global wearable sales, it's fair to say that they're doing a great job.
The last IDC report says the global wearables market will grow by 15.3% in 2019, selling 198.5 million units. This trend will continue year after year, reaching 279 million units sold in 2023. Booming sales of these devices will encourage companies from the sector to continue researching and launching even more innovative products onto the market. Let's take a look at some of these products:
The mind-car connection
The brain is still the least understood organ of the human body. A helmet with sensors that detects changes in brainwaves could change all that. With the information obtained, decoding algorithms will be created to connect drivers' minds with their cars.
Cardiac control to prevent arrhythmia
Arrhythmia can have serious consequences, most of which are avoidable. To deal with these problems, a garment containing electrodes has been developed. It is less invasive for patients, and requires neither wires nor adhesives.
Locating the elderly
Elderly people and those in the early stages of Alzheimer's disease are at risk of becoming lost. To avoid these situations, a locating device has been developed with an SOS button to use in case of an accident.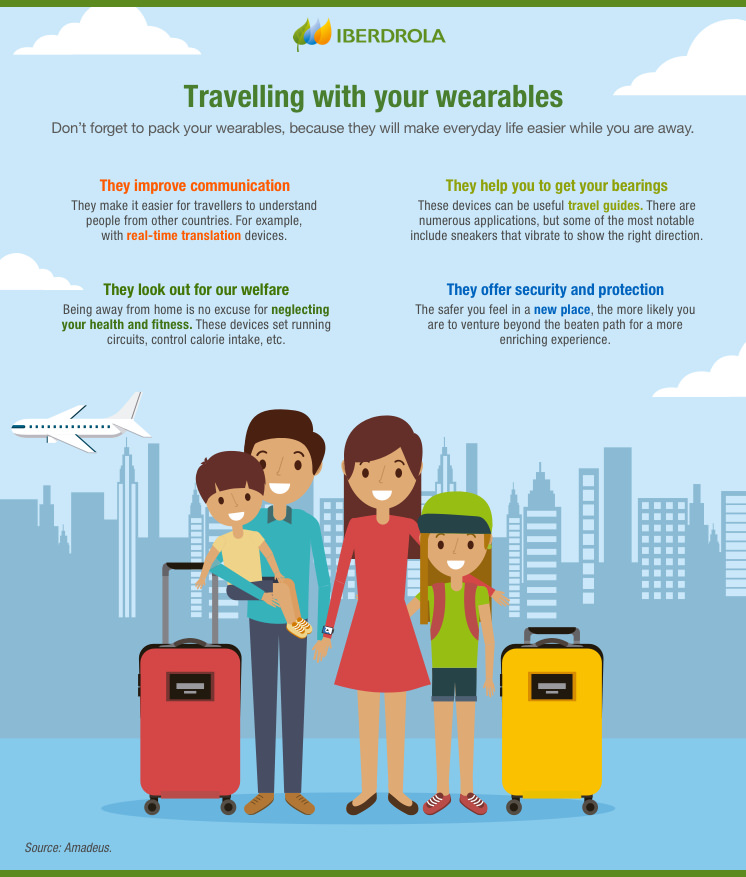 Travelling with your wearables.
These devices have been sold in massive numbers to end users, but the applications are not restricted to this market alone. In fact, experts say that the biggest opportunities are in industrial production. Growing numbers of companies have digitalised their plants and use wearables to implement the latest developments in the Internet of Things (IoT). What's more, items like bracelets, watches and glasses are being joined with others, like helmets and boots with sensors, smart vests and smart gloves. The usability paradigm is that of the connected employee. These wearables issue personalised instructions to each employee to improve productivity and efficiency.