WHOLESALE AND RETAIL: SOLUTIONS AND PROJECTS
Digital, intelligent and innovative solutions to give the customer more decision-making power
As part of the 2020-2025 investment plan, the Iberdrola group will allocate 6 billion euros to the areas of Wholesale and Retail. The progressive electrification of energy uses will enable the company to increase its customer base, raising its contracts with customers worldwide to 60 million in 2025 and 70 million in 2030, compared to 42 million at the end of the 2019 financial year. To all of them, Iberdrola will offer smart, innovative solutions to residential customers — energy storage and heat pump, self-consumption and electric mobility — and industrial clients — Smart Solutions, electrification processes and green hydrogen —.
Carousel of images and videos
The group's Wholesale and Retail area — Iberdrola Generación España, Iberdrola Energía Internacional, ScottishPower Retail Holdings, Neoenergia Comercializaçao and Iberdrola Generación México — focuses on electricity production through the construction, operation and maintenance of generation plants, and the purchase and sale of energy in wholesale markets. It is likewise responsible for marketing power and additional services and products to the end user.
A full 9 % of the organic investment in the 2020-2025 plan, totalling 75 billion euros, will go to this area, which equates to 6 billion euros. The progressive electrification of energy uses will enable Iberdrola to increase its customer base, raising its contracts with customers worldwide to 60 million by the end of the period and 70 million by 2030, compared to 42 million at the end of the 2019 financial year. Services provided to customers will also increase to 40 million by 2025, compared to 25 million in 2019, with significant growth in Smart Solutions, which will see a twofold increase to 22.6 million.
Carousel of images and videos
SMART AND INNOVATIVE CUSTOMER SOLUTIONS
Thanks to digitalisation and investment in R+D+i, Iberdrola markets a wide range of products and services that promote efficiency, energy saving and care for the environment, while at the same time placing the customer in the centre by providing them with greater connectivity and decision-making capacity.
Iberdrola offers these intelligent and innovative solutions in both the residential and industrial fields, adapted to the particular needs of each type of customer.
Among the solutions for the home, the Smart Home product range includes smart thermostats and electricity meters that allow a breakdown of consumption to be provided and heating to be used responsibly. In the United States, Energy Calculator also makes it possible to calculate how much energy each appliance consumes, and the NYSEG Smart Solutions online shop offers energy efficient products and discounts allowing its customers to save energy and money while reducing the carbon footprint in their community.
Smart Solar aims to promote energy self-consumption, both in the residential and industrial sectors, through customised installation of solar panels, with comprehensive maintenance and payment plans for them, which can generate savings of up to 70 % on electricity bills. In addition, it allows the storage of excess energy in batteries for use when there is no solar resource.
Smart clima offers air conditioning solutions and ensures that both electrical and gas equipment is always ready, and there are currently four services: aerothermal, air conditioning, renewal of gas equipment and renewal of electrical equipment.
Carousel of images and videos
The Smart Mobility Plan, aimed at promoting the development and deployment of electric vehicles, offers a comprehensive solution that includes the installation and management of the charging infrastructure, as well as a customised contract for the supply of clean energy 10 times cheaper than fuel. It is mainly aimed at households and companies that want to offer this service to their employees or customers, as well as urban public spaces.
Iberdrola is also contributing to the development of electric heat pumps, offering heating and cooling alternatives tailored to the needs of its customers. The company has a target of 1.4 million heat pumps installed in buildings and industry by 2025, as well as the target of developing industrial heat.
In addition, Iberdrola provides its customers with multiple products and tools so they can choose the tariff that best suits their lifestyle (Customised Plans in Spain or Energy Analyzer in the United States), receive alerts if the power goes off or relating to their consumption (Usage Alerts) or consumption and rates simulations, as well as different apps to easily and conveniently manage everything related to their contracted products, such as managing their energy consumption (PowerUp in the United Kingdom or Elektro Fácil in Brazil), sending their meter readings and getting live help (Iberdrola Ireland) or locating and booking their electric vehicle charging points.
GREEN HYDROGEN FOR A SUSTAINABLE INDUSTRY
Green hydrogen has become a key vector for industrial uses and sectors that are difficult to decarbonise (maritime transport, aviation, long-distance heavy vehicles and high-temperature industry). In line with this, Iberdrola is working with Fertiberia to develop the largest green hydrogen plant for industrial use in Europe using 100 % renewable electricity, projecting the installation of 800 MW by 2027 and the production of 15,000 tonnes of renewable hydrogen by 2025, rising to 85,000 tonnes by 2030 due to the electrification of energy uses.
Carousel of images and videos
IBERDROLA GROUP'S MAIN WHOLESALE AND RETAIL PROJECTS
Combined cycle power plants convert the thermal energy derived from a fuel into electricity by means of two thermodynamic cycles: that of a gas turbine — usually natural gas — and that of a steam turbine. This technology allows more electricity to be generated with a reduced environmental impact.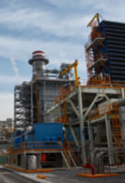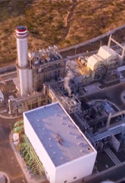 The company offers products and services oriented to improving efficiency and energy saving. These are solutions that enable smart consumption in homes and encourage the purchase of green energy through digital tools.