RELATIONS WITH OUR STAKEHOLDERS
We strengthen the relations with our Stakeholders
Iberdrola group has recently reworded its Corporate Stakeholder Engagement Policy in the belief that this is a key element in its responsible and sustainable business model and that in today's complex and uncertain scenario fostering greater stakeholder engagement rises as a key priority.

Iberdrola renews its Corporate Stakeholder Engagement Policy.
OBJECTIVES OF THE STAKEHOLDER ENGAGEMENT POLICY
The new policy aims four objectives:
Engage Stakeholders
Continue encouraging the engagement of the Stakeholders in Iberdrola's business enterprise through a strategy of strong involvement in the communities in which it operates and the sustainable creation of value for all of them.
Address their legitimate interests
Continue responding to the legitimate interests of the Stakeholders with which the company interacts.
Build trust
Continue building trust among the Stakeholders in order to build long-lasting, stable and robust relationships.
Maintain corporate reputation
Contribute through all of the above to maintaining the corporate reputation in the various countries and businesses in which Iberdrola is active.

To achieve these objectives, Iberdrola has defined seven basic principles that are to guide the work of all professionals in the company when acting and interacting with Stakeholders, these being the groups and organisations whose decisions and opinions have an influence on Iberdrola and who are affected by the group's activities.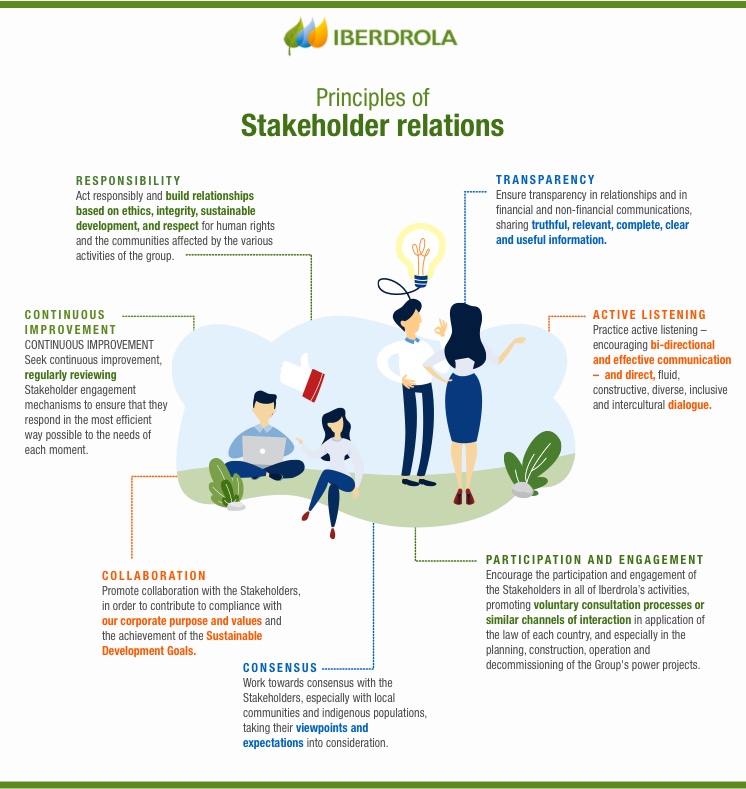 Principles of Iberdrola's relations with its Stakeholders.
More information about our principles
To develop this policy, Iberdrola has drawn up a Global Stakeholder Relations Model to be implemented in the group's key countries, and also more locally at site level. The model will be used to ensure direct communication with our various Stakeholder groups, to help better understand their needs and expectations and to implement specific action plans.
WE BOOST THE STAKEHOLDER ENGAGEMENT
Direct communication
Iberdrola believes that discussion panels are a very useful and effective tool in Stakeholder relations. In fact, one of its subsidiaries, the British SP Energy Networks
External link, opens in new window., has gained ample experience in this field: the company has held panels in various geographical locations, which have been used to discuss matters such as vulnerable costumers, electric vehicles, digitisation, renewable energies and the circular economy.
Drawing on this experience, Iberdrola has created a permanent Stakeholder Panel in Spain focussing on the topic of Corporate Social Responsibility (CSR). The group comprises 10 external panellists (50 % women and 50 % men) — all of whom are important opinion leaders in this field — who hold discussions with 10 Iberdrola senior managers involved in CSR (seven corporate directors and three business unit directors: Liberalised, Networks and Renewables).
In upcoming sessions, the panellists will be discussing the following items of their own choice:
The responsibilities of public and private entities in the foreseeable

electrification of the economy: cities, housing, mobility, etc.

Stakeholder engagement in company operations and consultation processes

with local communities.
Current issues: the need to manage gender diversity; immediate realities: the need to manage

age diversity.
Internal culture initiatives
Over the past few years, Iberdrola has implemented numerous measures to foster an internal culture built on the importance of stakeholder engagement across the entire group.
These measures include the creation of a global working group known as the Iberdrola Stakeholders' Hub — with roughly 100 people already taking part — and sharing a list of rules among our workforce on how to interact and engage with Stakeholders.