Retail: solutions and projects
Digital, intelligent and innovative solutions to give the customer more decision-making power
Energy transition Energy efficiency Green hydrogen Photovoltaic self-consumption
The progressive electrification of energy uses will enable the company to increase its customer base. To all of them, Iberdrola will offer smart, innovative solutions to residential customers — energy storage and heat pump, self-consumption and electric mobility — and industrial clients — Smart Solutions, electrification processes and green hydrogen —.
The energy of the future, today: Smart people.
The group's Wholesale and Retail area — Iberdrola Clientes España

External link, opens in new window., Iberdrola Energía Internacional

External link, opens in new window., ScottishPower Retail Holdings

External link, opens in new window., the commercialization business of Neoenergia

External link, opens in new window. and Iberdrola Generación México

External link, opens in new window. — focuses on service of retail and energy supply to end users, as well as products and services focused on decarbonisation, and the purchase and sale of energy in wholesale markets.
It is likewise responsible in Mexico and Brazil for electricity generation (excluding renewable energy) through the operation and maintenance of conventional generation plants. External link, opens in new window.
Smart and innovative customer solutions
Thanks to digitalisation and investment in R+D+i, Iberdrola markets a wide range of products and services that promote efficiency, energy saving and care for the environment, while at the same time placing the customer in the centre by providing them with greater connectivity and decision-making capacity.
The Smart solutions the group offers to its domestic customers in Spain include: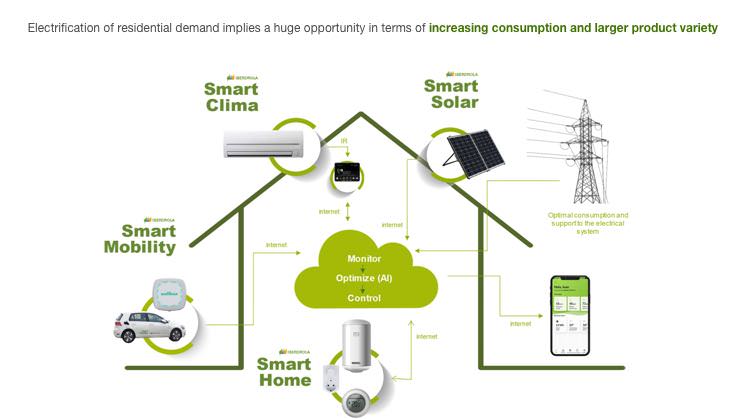 Smart and personalized solutions to the needs of each home.
Smart and personalized solutions to the needs of our industrial customers.
On the other hand, the service package

External link, opens in new window. for industrial customers in Spain includes: Green hydrogen —hydrogen obtained from renewable sources for use as a raw material or fuel—, Industrial Heat —electrification of industrial processes— and, as in the residential sector, Smart Mobility

External link, opens in new window., Smart Solar

External link, opens in new window. and Smart Clima.
The company is progressively marketing Smart solutions in all countries. There has been a significant expansion in smart home and electric mobility solutions: by September 2021, Smart Mobility uptake had tripled and Smart Solar registrations had multiplied by 2.3, while Smart Home and Smart Clima had multiplied by 1.2 and 1.5 respectively. In addition, Iberdrola is also contributing to the development of electric heat pumps, offering heating and cooling alternatives tailored to the needs of its customers.
The group also offers its customers around the world the best electricity and gas tariffs, along with different plans so they can choose the tariff that best suits their way of life, as well as online tools to maximise energy efficiency, simulating consumption and the most appropriate tariffs. Similarly, Iberdrola also offers different apps so its customers can easily and conveniently manage everything related to their contracted products such as, for example, managing their energy consumption, sending meter readings, obtaining live help, locating and reserving charging points for their electric vehicle or selecting the most convenient payment method according to each country, prioritising digital payments.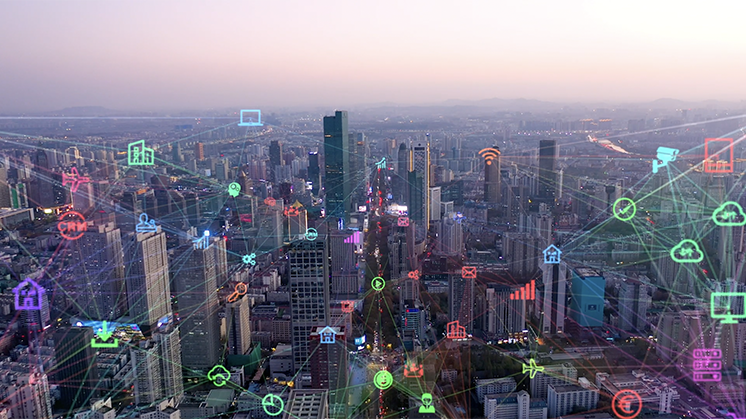 Iberdrola has offered more than 11 million products and services globally.
Green hydrogen for a sustainable industry
Green hydrogen has become a key vector for industrial uses and sectors that are difficult to decarbonise (maritime transport, aviation, long-distance heavy vehicles and high-temperature industry). In line with this, Iberdrola operates the largest green hydrogen plant for industrial use in Europe using 100 % renewable electricity.
Specifically, the group already has more than 60 projects in eight countries —Spain, United Kingdom, Italy, Brazil, United States, Mexico and Australia—. The company has also submitted 54 projects to the Next Generation EU programme, which will trigger investments of €2.5 billion to reach a production of 60,000 tonnes of green hydrogen per year.
The energy of the future, today: green hydrogen.
Iberdrola Groups main wholesale and retail projects

The company offers products and services oriented to improving efficiency and energy saving. These are solutions that enable smart consumption in homes and encourage the purchase of green energy through digital tools.
1 AVANGRID, Inc. is 81.50 % owned by Iberdrola, S.A.
2 Neoenergia, S.A. indirectly holds 50 % plus one share of Iberdrola, S.A.