OCEAN CLEAN-UP INICIATIVES
Three innovative initiatives for cleaning up the oceans
#social action #nature #environmental sustainability
According to Greenpeace, our oceans receive 200 kilos of rubbish a second and have floating islands of plastic with an area four times the size of California. This situation, which is so harmful to the health of our planet, has inspired three ingenious initiatives for cleaning up the oceans. Read about them here; they'll definitely surprise you!
The ocean is one of the most beautiful and mysterious places on Earth. But it is constantly under threat from pollution. Until recently, due to its immense size and depth, we thought we could dump rubbish and chemicals into it without major consequences for the environment. In fact, advocates of this practice called it 'dilution'. The tables have now turned and more and more people are fighting to reduce marine pollution, coming up with some truly ingenious solutions. Here are some of the most innovative.
4OCEAN: BRACELETS MADE FROM OCEAN PLASTIC
4Ocean is a project created by two American surfers in 2017. Alex Schulz and Andrew Cooper were inspired by the pollution they saw in an Indonesian fishing village to promote this initiative, which in just two years has collected 1,930 tonnes of ocean plastic in 27 countries and employs more than 150 people worldwide.
This project is world renowned for the work it does and is funded through online sales of products made from recovered and recycled materials. The company, which has offices in the USA and in Indonesia, is committed to eliminating one kilo of waste from the oceans and shorelines for every article sold on the website, such as bracelets and cloth bags. What's more, 4Ocean encourages a sustainable economy, promotes education on the effects of rubbish in the ocean and contributes to the development of small communities by employing local fisherman to collect plastic.
SURFACING ROADS WITH OCEAN PLASTIC
Fishermen in Kerala, India's southernmost state, are part of an innovative ocean clean-up project promoted by the local authorities. The name of the project is Suchitwa Sagaram (Clean Ocean). For a few months now, the fishing boats that go out to fish these waters have been collecting waste plastic on each trip and bringing it back to port.
The innovative thing about this campaign, which involves trawlers and members of the local fishing community, most of them women, is that it is not just about recovering plastic from the ocean. Once back on dry land, it is put into a special crusher, which turns it into raw material for surfacing roads. To date, the government of Kerala has managed to recover more than 25 tonnes of plastic.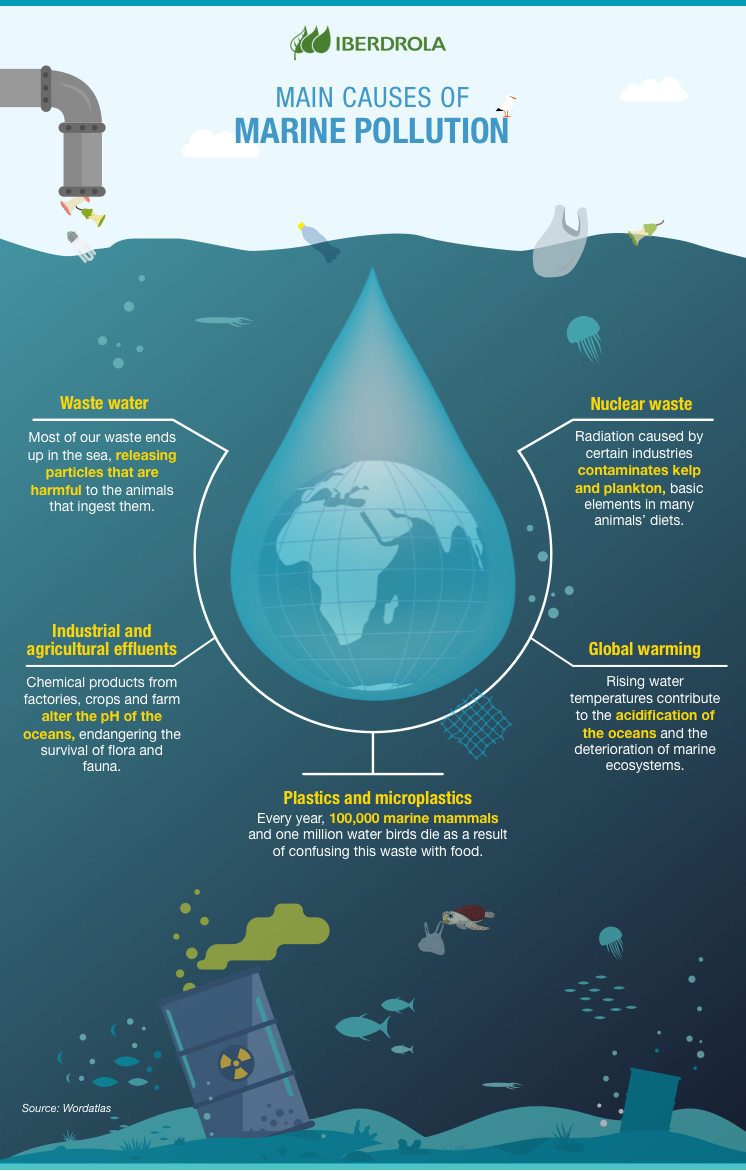 Main causes of marine pollution.
SEE INFOGRAPHIC: Main causes of marine pollution [PDF]
SEABIN: BINS FOR THE OCEAN
Andrew Turton and Pete Ceglinski are two Australian surfers who came together in 2015 to develop a clever floating bin: the Seabin. It is used to filter plastic and some of the oils, detergents and fuels floating in ports, docks and marinas around the world.
The Seabin moves up and down with the tide while a water pump integrated into the system, capable of displacing 25,000 litres per hour, sucks up the surrounding water and traps rubbish inside. The rubbish is held in a bag capable of storing 20 kilos until the container is collected and emptied. Seabin say that the product could be very useful in the ocean clean-up effort, having already removed more than 55 tonnes of waste worldwide, an average of two tonnes a day.