The smart home: present or future?
The TV, fridge and even your coffee maker will be smart appliances. Virtual assistants will operate them according to your orders, helping you in many of the day-to-day tasks. Change is here and it will become a reality in a decade.
SEE INFOGRAPHIC: The smart home [PDF]
The alarm in your mobile phone goes off. When you turn the alarm off for the second time, the coffee maker starts to prepare your breakfast while the dimmer system gradually increases the brightness of your lights, simulating a warm sunrise inside your bedroom. The electric heater was programmed with the alarm time and started to heat the water half an hour before this time. It will lower the temperature by two degrees today, combining comfort and energy savings, since it is not as cold outside and temperatures are rising.
You wake up, walk to the living room and ask your virtual assistant to turn on the radio. The radio knows that you like to tune to the sports station on Mondays at 08:00 am to listen to the results of the weekend matches. The radio notifies you about a traffic accident that will delay you on your way to work with a warm message without any command. When you sit in your car, your GPS will have already calculated a quicker alternative route.
This is not fiction, it is the future - an almost immediate future. Home appliances with sensors and communication systems to exchange their data are now in every corner of our homes, which is becoming increasingly connected: home automation, entertainment, energy efficiency, security, comfort, daily tasks, etc. It is the Internet of Things, a new reality in which all objects will gather and exchange information, generating a new universe of services for citizens.
The smart home and its evolution
This process will take five to ten years to become a reality. The market is currently experiencing a strong growth:
The change towards the smart home is following the most important life events of its users: home owners install baby monitor cameras when their baby is born to monitor their babies from their mobile phones; they also install lighting systems or thermostats after purchasing or remodelling their home to control them with their mobile devices, etc. Another determining factor is age.
The smart home is becoming a reality and leisure devices are pioneering the implementation of smart devices in our homes: the smart TV and video game console are the first devices to enter our homes, although users are starting to move to many other different types of home automation devices.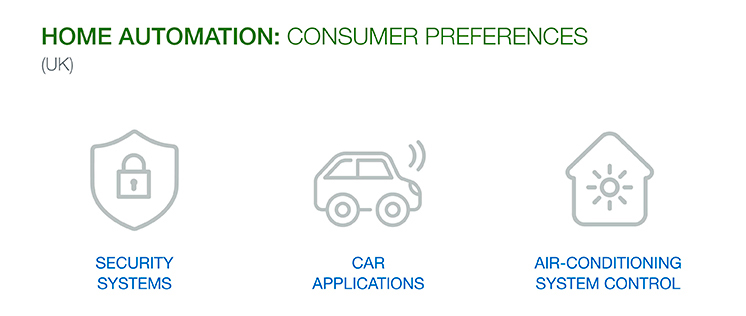 Source: Report "Switch to the connected house", 2016 (Deloitte).
Virtual assistants
In the film Her (2013), spectators were amazed with how the charming and incredible Samantha could have a chat with the owner, check his e-mail, tell jokes... It was so real that the leading actor fell in love with her. Even though fact is rarely stranger than fiction, virtual assistants have been programmed to learn from us and their electronic circuits have been designed to guarantee our well-being and comfort.
Major electronics companies are already marketing their virtual assistants and competing against each other to become the top brand of your home.
Nowadays, these assistants are already installed in simple devices, which feature a microphone and speaker, so they can follow your orders from your living room: Some examples include Apple Home Kit, Amazon Echo and Google Home.
What is most important is for these assistants to follow your orders. To achieve this, home appliance manufacturers must develop and launch smart products that are compatible with these assistants: coffee makers, lamps, washing machines, fridges, etc. This process will take a few years, while different brands compete to conquer as many homes as possible.
Some final information: according to the consulting firm Gartner Research, there will be 20,800 million of these home automation devices connected throughout the world by 2020, a market that will reach a value of $1.7 billion by this date, according to the consulting firm IDC.
Iberdrola and R&D applied to digital products and media