Interview with Ignacio S. Galán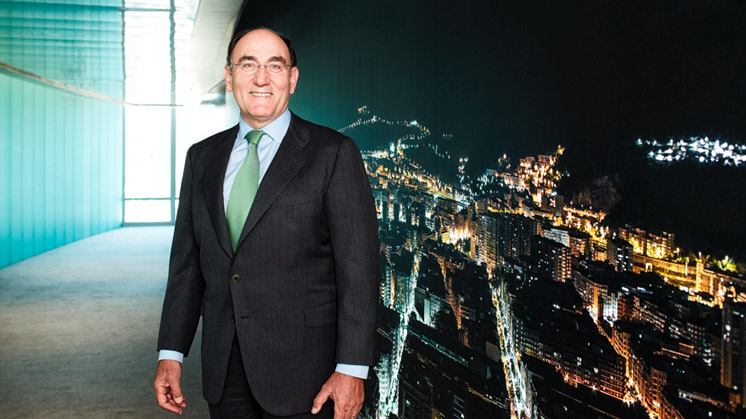 Ignacio S. Galán, Iberdrola Chairman of Iberdrola.
As well as outlining the main points behind the company's evolution throughout 2017, during the interview Ignacio Galán highlighted the fact that its progress will allow shareholder dividends to increase by 4.2%, rising to €0.323 per share. In addition to presenting the main financial and economic numbers, the Chairman took the opportunity to underline what Iberdrola's commitment means for its social dividend: more jobs and wealth in all of the areas reached by Iberdrola and added value for all our stakeholders and for society as a whole.
Regarding the company's future prospects, the Chairman mentioned the strong investment programme of €32 billion that the group will be working on over the next five years, with a special focus on energy grids and renewables. These investments represent a 65% increase on the previous half decade, helping to raise the company's profits to €3.5 or 3.7 billion by 2022 and bring dividends up to €0.4 per share.
Along with other interesting facts, the Chairman spoke about the major challenges within Spain's energy policy, which largely tally with the obstacles that the sector will have to overcome on a global level: electrification of the economy in order to move towards decarbonisation, replacing contaminating power stations with cleaner energy sources, amending energy tax laws and ridding electricity bills of items that are unrelated to energy costs, which also affects other European countries.
What can Iberdrola's shareholders expect to see in 2017?
We have once again confirmed the soundness of our business model and its ability to yield sustainable results in adverse circumstances, such as the situation when hydroelectric production plummeted in Spain or retail business dropped in the UK. Our gross investments last year rose by 32% to reach almost €6.6 billion, and we managed to raise profits by 3.7%, which means we are able to increase our dividend by 4.2% to €0.323. But there are other numbers I would like to draw on that often go unnoticed and for us are paramount because they reflect our commitment to what we call the social dividend. To name just a few figures, last year we hired 4,111 new recruits, we made purchases from thousands of suppliers adding up to almost €8.7 billion, and the taxes we paid into the public coffers amounted to €7.11 billion, along with a further €7 billion in indirect and induced tax according to the research we have done. And this is all enhanced by our firm commitment towards professional training and qualification for young people, our support for gender equality, which is embodied in initiatives such as backing female sport, environmental protection and wildlife preservation, promoting art and culture, and cooperating with and helping those in need.
How realistic is the promise to raise dividends to €0.4 per share in five years?
In the years to come, Iberdrola will be making a huge investment effort in all of the countries where we operate. By 2022, our investment will have reached €32 billion, most of which will go to electric grids and renewables. That is a 65% increase compared to the last five years. In Spain, for instance, we will be investing nearly €1 billion per year, which is double what we were investing just five years ago. This will increase our profits to between €3.5 and 3.7 billion in 2022, up approximately 30% on 2017 figures. Given that our dividend will also grow as profits rise, we will be able to raise it to that €0.4 target per share.
Which countries and businesses are expected to make the most significant contributions to the group between now and 2022?
Our forecasts suggest that the Iberdrola group's gross operating profit will stand somewhere between €11.5 and €12 billion in 2022, half of which will be linked to the grid business and 27% to renewables, with a very evenly balanced basket of currencies: 35% in euros (EUR), 29% in US dollars (USD), 20% in UK pounds sterling (GBP) and 16% in the Brazilian real (BRL), in line with the allocation of our investments.
Chairman's profile