Iberdrola Innovation Middle East
Defining 'the digital utility'
Iberdrola Innovation Middle East is a world-leading innovation centre –located in Qatar Science & Technology Park– that aims at defining 'the digital utility', developing innovative digital solutions for renewable energy integration, smart grids and energy efficiency and conservation.
Iberdrola Innovation Middle East: defining 'the digital utility'.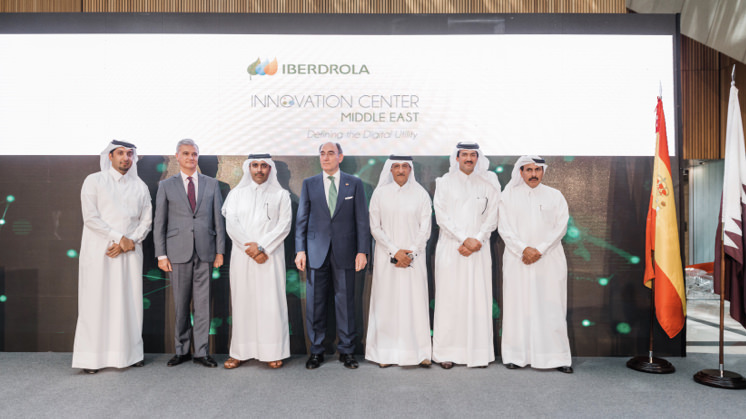 The centre was officially opened on 7 March 2018, with the backing of Ignacio Galán, Chairman of the Iberdrola group, and Sheikh Abdulla bin Mohammed bin Saud Al-Thani, CEO of the Qatar Investment Authority.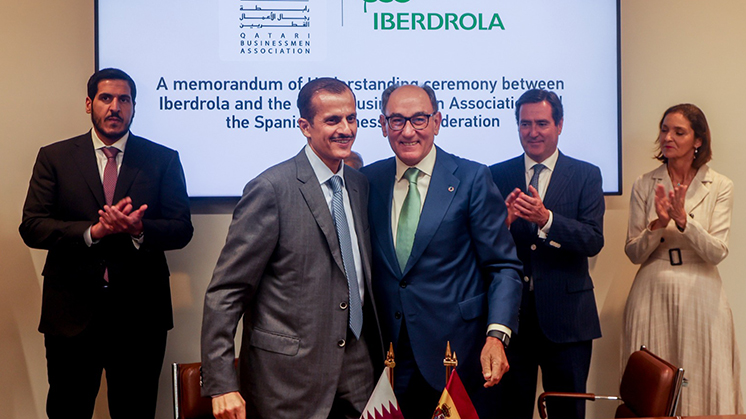 Iberdrola and IPA Qatar signed an agreement to strengthen their strategic alliance in innovation, May 2022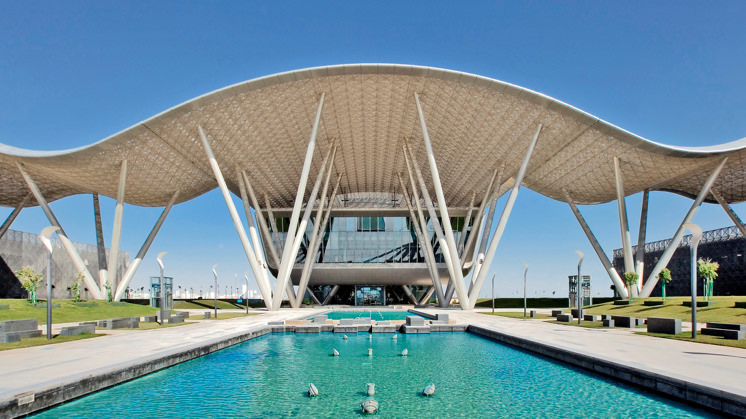 Iberdrola Innovation Middle East located in Qatar Science and Technology Park (QSTP).
Iberdrola Innovation Middle East purpose
Iberdrola Innovation Middle East, located at the Qatar Science & Technology Park, was launched in January 2016 to tackle the practical technology challenges related to innovation and digitalisation of the energy system. In line with the group's strategic pillars [PDF] External link, opens in new window., the innovation company develops innovative digital solutions for the three key Iberdrola lines of business (i.e. networks, renewables and customers) at the intersection of energy and digital technology.
Through its expertise in the areas of electrical and electronics engineering, software development, big data, machine learning and artificial intelligence, the centre searchs for new solutions for the following applications:
Networks: Improve grid planning and operations
Advanced metering
Sensors
Cybersecurity
Virtualization
Renewables: Facilitating the integration of renewables and storage
Advance control design
Hybrids systems sizing
Systems simulation
Customer: Catalysing prosumers in the new energy paradigm
Energy management
Data-driven energy efficiency
Smart mobility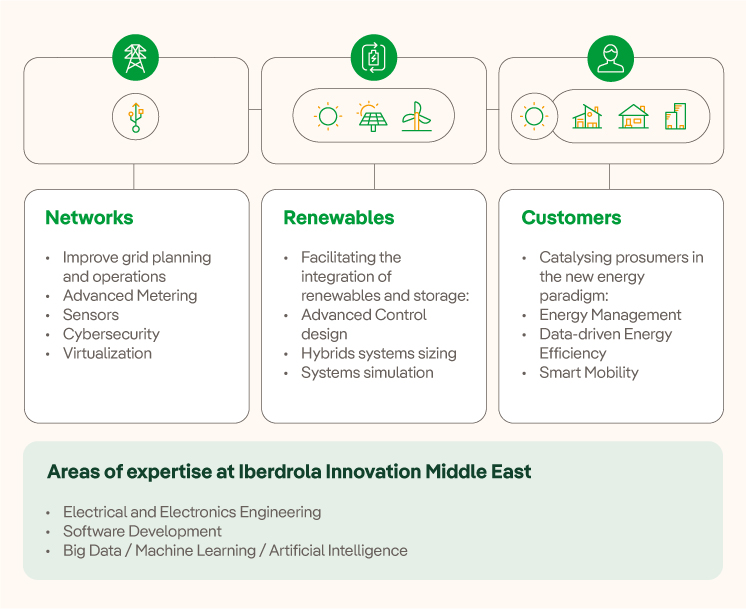 Iberdrola Innovation Middle East scope - Applications and Expertise areas
Santiago Bañales, Managing Director of Iberdrola Innovation Middle East, gave an interview to the website Engerati after the opening of the centre.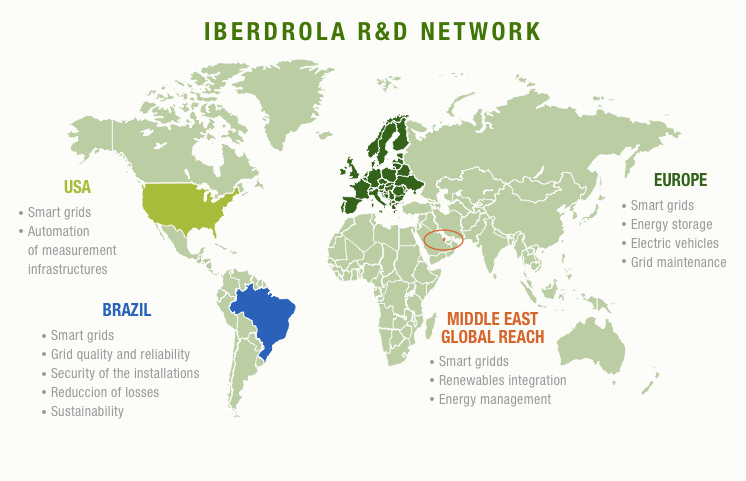 Services provided by Iberdrola Innovation Middle East
Emerging from its development core, the company offers three kind of innovation monetization services: incubation of new businesses, advanced training and technology advisory services.
Business Generation
Intellectual property licensing of registered Intellectual Property (IP) generated by the company's development program.
Business spin off, deriving value by spinning off new businesses based on unique IP, with or without partners, enlarging the customer base, the economies of scale and the continuous learning from the market.
Training
Delivery of on-site training on new digital technologies and/or use of our innovation products.
Partnership with third parties to deliver comprehensive digital energy training services.
Advisory
Smart grid design: Leveraging the large experience of Iberdrola group, with more than 13 million installed worldwide, the centre provides technical advice to Middle East utilities at all the stages of the implementation of their smart grid program.
Optimal Sizing of Storage and Renewable Resources: The utilization of large-scale battery storage and renewable energy resources is witnessing a significant global growth. Optimized sizing of these assets is essential to maximize the investment profitability based on the target application. Iberdrola Innovation Middle East has thus developed comprehensive tools that achieve optimal techno-economic sizing of standalone storage, renewable or hybrid power plants that combine both assets and beyond. We also use industrial-grade commercial tools to complement our designs.
Standalone Batteries: Classical battery storage applications rely on charge/discharge actions for energy time shifting and arbitrage. The advancements in battery control has enabled an additional array of services such as frequency and voltage regulation. These services are online and monetized in several international markets, attracting the attention of battery operators. Our tools provide the flexibility of optimal battery sizing, where the optimization engine can consider a single battery service, or the simultaneous stacking of multiple revenue streams, namely: energy arbitrage, frequency regulation, voltage regulation and capacity market. This process is not only limited to new batteries but can also be used to optimize the operation of existing batteries among the different possible services for profitability maximization.
Hybrid Systems: Hybrid systems include a combination of generation and storage assets (e.g., solar PV, wind and classical generators). Based on detailed optimizations, we recommend optimal sizes for each of these assets in islanded or grid-connected systems, while combining the benefits of the stacked storage revenue streams with the additional benefits provided by the hybrid systems. Our services can also answer the economic feasibility questions of optimal penetration point of renewable energy, or to benchmark the utility grid extension to a distant demand point versus investing in an on-site, self-sustained, microgrid with high electricity supply reliability.
Energy services: We offer innovative solutions to our customers to minimise their consumption and contribute to the decarbonisation and diversification of the economy. We carry out audits and implement energy management systems and efficiency measures, as well as certifications of savings using the big data to learn consumption habits and avoid energy wastage. Also, we design and implement complete renewable energy systems at microgrid level, both stand-alone and connected to the grid.
On top of that, Iberdrola Innovation Middle East maintains strong cooperation programs with Qatar innovation ecosystem, having signed co-development agreements with Qatar National Research Fund, Qatar University, Hamad Bin Khalifa University, Texas A&M University at Qatar, TASMU and Kahramaa, among other innovation and energy industry players. Among other benefits for society, these agreements include training and educational programs and the sponsorship of graduate and doctoral students.
Contact us!

 

If you require more information, don't hesitate to contact us. Our office is open from Sunday to Thursday from 8:00 am to 4:00 pm.

Qatar Science & Technology Park (QSTP)
Tech 1, Level 2, Suite 204
210177 - Doha (Qatar)

Telephone: +974 4489 3200
E-mail: innovation-me@iberdrola.com